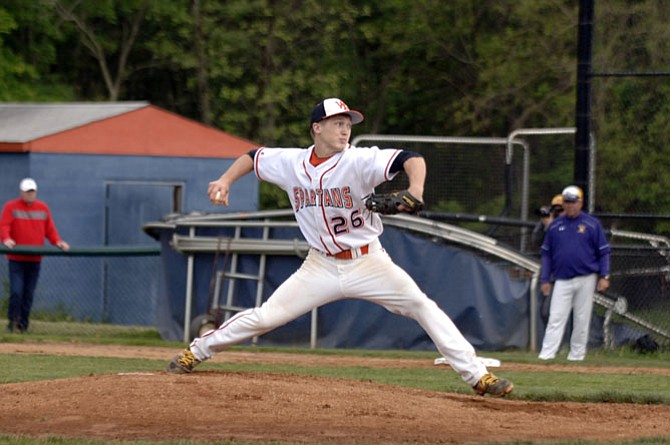 West Springfield catcher Matt Stallings slid in safely to home plate, jumped in the air and pumped his fist.
The Spartans had finally broken through against Lake Braddock pitcher Wade Strain in this battle for first place in Conference 7 and West Springfield wasn't about to let up.
After being no-hit for 5 1/3 innings, the West Springfield baseball team scored three runs in the bottom of the sixth and pulled out a 3-1 victory over rival Lake Braddock on Tuesday night at Tugwell Yards.
West Springfield secured the No. 1 seed in the Conference 7 tournament, which comes with an automatic berth in the 6A North region tournament, and completed a regular-season sweep of the Bruins.
"It is a tremendous accomplishment," West Springfield head coach Jason Olms said about finishing atop the conference standings.
After West Springfield pinch hitter Calvin Pastel drew a one-out walk in the bottom of the sixth, Stallings ended Strain's no-hit bid with a single to center. Pinch runner Robert Cable went from first to third on the play, and a defensive miscue allowed Stallings to take second. Third baseman Brendan Fletcher then put the Spartans ahead to stay with a two-run single to center.
"I knew I was getting a fastball first pitch, so I was trying to drop the hands and knock it into play somewhere and hope it fell," Fletcher said. "I got kind of lucky; it dropped right in center field [and] two runs came around. ... I told [Stallings] before he went up: I said, 'If you get on base, I'm bringing you in.'"
After a double by second baseman Isaak Lyons and an intentional walk to first baseman Josh Kisner, West Springfield added a third run when center fielder Tom Susa was hit by a pitch with the bases loaded.
Leading 3-1, West Springfield pitcher Jake Williams finished off Lake Braddock in the seventh, striking out the final two Bruin batters.
Williams' performance on the mound was nearly overshadowed by Strain's dominant effort, but in the end it was the West Springfield junior who earned the complete-game win.
"Honestly, it was pretty nerve-wracking at first," Williams said. "Throughout the game, I just did what I could and then my team picked me up at the end."
Williams began the season as the team's closer, but eventually transitioned into a starting pitcher. On Tuesday, the right-hander allowed one unearned run on six hits in seven innings. He walked one, hit two batters and struck out eight. He threw 99 pitches, including 72 strikes, and threw a first-pitch strike to 19 of the 29 batters he faced.
"He pitched incredible," Stallings said. "Best performance so far by him this year and he's only going to get better throughout the year. He stuck to the game plan, kept getting ahead."
Williams had to pitch his way out of trouble on multiple occasions. He allowed two hits in the top of the first but did not surrender a run. The Bruins put two on in the second, but Williams induced an inning-ending fly ball to right.
Lake Braddock loaded the bases with none out in the top of the third, but Williams limited the Bruins to one run ­­­ a sacrifice fly off the bat of third baseman Matt Thomas.
Lake Braddock had at least one runner in scoring position in five of seven innings.
"Jake competed extremely well against a real tough lineup," Olms said. "... Jake has good offspeed and he's got a good fastball as well, but Braddock's tough because they do hit the breaking ball as well as anybody that I've seen in high school baseball. He had to locate. He ... had to make a lot of stressful pitches with runners on base, runners in scoring position and just kept competing and made his best pitches when he really needed to.
"Even that inning where we gave up the run, [Lake Braddock] had bases loaded and was able to get out of it with one, which obviously turned out to be huge."
Lake Braddock head coach Jody Rutherford was not pleased with the Bruins' approach at the plate.
"We had opportunities with runners in scoring position the first handful of innings," he said. "Our guys just aren't tough enough to handle those situations right now."
What made Williams such a tough pitcher to face on Tuesday?
"He has good command," Rutherford said. "He moves his fastball in and out, throws breaking balls, throws a lot of strikes. We just take too many pitches. I don't care what he's throwing over the plate, you can't take one of the first two strikes every at-bat and be a successful team. You can't do that. You've got to swing the bat. We preach it, we preach it, we preach it, but until the kids are going to go do it when the lights are on, we're not going to be as successful as we need to be."
Strain suffered the loss for Lake Braddock. He allowed three earned runs on three hits --- all in the sixth inning. He walked three, hit one batter and struck out eight. He threw 62 of 96 pitches for strikes and tossed a first-pitch strike to 18 of the 25 batters he faced.
Ethan Rolland, Nate Contrino, Logan Driscoll, Justin Luedecking and Thomas each had one hit for Lake Braddock. Driscoll and Luedecking each had a double.
Lake Braddock will be the No. 2 seed in the conference tournament and also gets an automatic berth in the region tournament. The Bruins fell to 14-5 overall and 10-3 in the conference. Lake Braddock is scheduled to face South County on the road at 6:30 p.m. tonight.
West Springfield improved to 16-3 overall and 11-2 in the conference. The Spartans are scheduled to host T.C. Williams at 6:30 p.m. tonight.
"We're capable of whatever we set our minds to," Stallings said. "Our first goal all year was to come out and get the first seed for our conference and we accomplished that, so we've got a lot more we think we can accomplish."