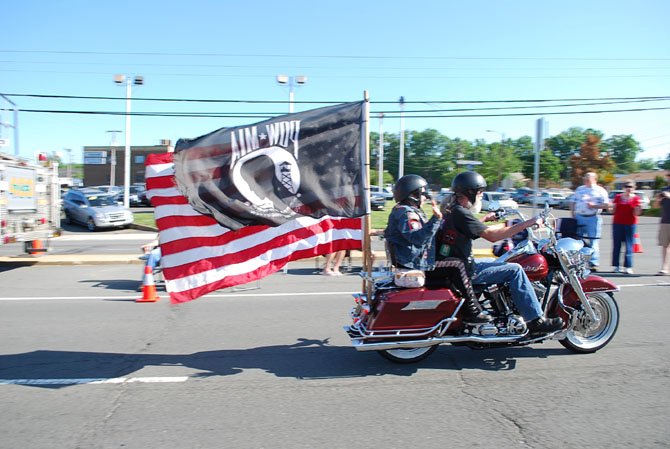 Around 4,500 motorcycles roared down Fairfax Boulevard from Patriot Harley-Davidson Sunday morning, May 25 in the 16th annual Ride of the Patriots.
Thousands of people lined the street waving American flags and watching them ride by — the crowds continued over I-66 overpasses all the way to the Pentagon, where the cyclists began lining up for Rolling Thunder.
This Memorial Day tradition began in 1999 when the Fairfax chapter of the Harley Owners Group was formed, said Nancy Heath of Maryland, one of the four original officers.
Rolling Thunder was established in 1983 and emphasized Vietnam veterans, those Missing in Action and Prisoners of War. When the Ride of the Patriots began, "we were following their lead," said Don Winthrow of Annandale — the "Boss Hog" of the Ride of the Patriots. "But then after 2001 and Sept. 11, we decided we needed to expand this," he said.
The ride then moved to encompass all veterans, as well as all first responders, Winthrow said. "We honor them all, and the whole idea is to honor those who have served and are serving, to pay special tribute to this day and all it means."
At 6:30 a.m. cyclists began lining up down the police-blocked eastbound Fairfax Boulevard. A community parade down the road followed, bringing the Northern Virginia Firefighters' Emerald Society Pipe Band, Fairfax City council members, Mayor Scott Silverthorne, Virginia Delegate David Bulova, State Senator Chap Peterson, U.S. Congressman Gerry Connolly and the Fairfax High School band.
On a large stage set up in the parking lot, hundreds of people gathered to watch the Memorial Day program, which included a flag ceremony, speeches by politicians and Harley-Davidson representatives, and musical performances by both bands. In the sea of motorcycles, tents, tables and enumerable American flags, one member was notably new — the Wounded Warrior Project.
"For many men and women we help, Memorial Day is a tough weekend," said Michelle Roberts of Jacksonville, Fla., a Wounded Warrior Project representative and Army veteran. "We're here to raise awareness and support for our wounded warriors," she said. Depending on the results of their representation at the Ride of the Patriots, the Project may consider appearing at future rides and possibly Rolling Thunder.
After the ceremony, the cyclists started their engines and departed at 9 a.m. following a Fairfax County police escort motorcade.
"It's really about freedom," said Heath. "We ride to be free, and it's because of our military that we have this freedom."
Over 75 percent of the membership to the Fairfax chapter of the Harley-Davidson Owners Group is ex-military, said Ken Lyons of Centreville, media coordinator of the Ride.
"The motorcyclists wake up the world," said Ray De Frees, the "Flag Man" of Fairfax. "They make a statement to the world."