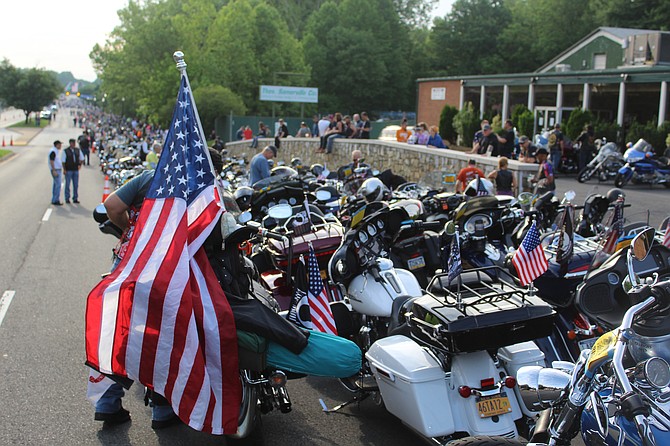 In May 2019, the roar of the Rolling Thunder cyclists will be heard for the last time in the parking lot at Patriot Harley Davidson in Fairfax as the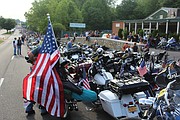 event winds down after 32 years of biking, comradery and honoring the prisoners of war or soldiers missing in action from the Vietnam War.
The official reason for discontinuing the event is multifaceted. Organizers can't afford it, the new generation of riders may not be on point with the intention of the ride and the staging area in the Pentagon parking lot has not gone smoothly as it once did. Patriot Harley will miss the hoopla that comes with it. "That's our biggest weekend," said Kevin Hardy, Patriot marketing manager.
The morning of the ride, five or six thousand cyclists would gather in Fairfax, and then set out on eastbound I-66 with a police escort to the Pentagon parking lot where they stage for the parade. "It's morphed into a huge patriotic event, the whole Harley subculture goes along those lines," said Hardy, who hopes it won't ride off into the sunset this coming May. He's hoping for a new corporate sponsor but none have stepped up at this point.
According to Sgt. Artie Muller, Founder and Executive Director of Rolling Thunder, Inc., cites the parking and harassment of supporters and sponsors in past years. "As a result of changing times the organization and Mission needed to be reorganized and reevaluated," he said in a letter that will be sent out in January. There is hope for it though but not on the level that was seen in the past. "We will continue the POW/MIA Mission through our ninety Rolling Thunder State Chapters across America coordinating demonstrations starting 2020 Memorial Weekend in their own states, or joining forces with other state chapters," he said.
The cyclists have been gathering at Patriot for the last 20 of the 32 Rolling Thunder events. The thousands of motorcycles that come into town for the weekend contribute to the local economy so it may be missed economically as well. Hardy realizes the corporate sponsorship that is needed may be just wishful thinking, and borrowed a line from Bob Dylan's playlist.
"The Times They Are A-Changin," he said.