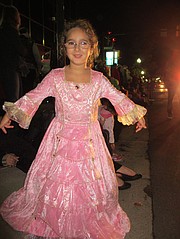 Flashing emergency lights, blaring fire and police sirens, and roaring Vienna and Fairfax County police motorcycles kicked off the 68th Annual Vienna Halloween Parade on Wednesday, Oct. 29. Thousands of spectators lined Maple Avenue as the parade of costumed children, pop and folk dancers, school bands, the Redskins band, and floats went by. Earlier in the day, many people marked their spots with blankets or chairs, and, along the parade route, caterers served friends who joined together for a pre-parade supper.
The parade's theme for 2014 was a celebration of girls' sports in Vienna, and many of the floats reflected that theme.
Fairfax Public Access cable, channel 10 videotaped the parade for viewing. On schedule 26 presentations. Go to http://www.fcac.org/schedule?channel=10&date=2014-11-01 for program schedule.
— Donna Manz