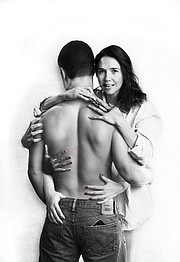 Arlington — Signature Theater in Arlington is staging the savvy and sexy "Sex With Strangers" through Dec. 7, 2014.
The talkative, sharp-tongued play stars two strangers played by Holly Twyford and Luigi Sottile — as opposites who are trapped by a snowstorm in a secluded cabin. Twyford plays Olivia, an unsuccessful yet gifted 39-year-old writer who needs a big break; and Sottile plays Ethan, a younger tech-addicted blogger who is already successful and provides guidance through the publishing maze.
Opposites instantly attract, undeniable chemistry ignites and sex is imminent. As the dawn rises, however, what could have just been a one-night-stand transforms into something more complicated when online exploits interfere with their real-life connection.
Director Aaron Posner said while the play deals with issues like privacy, technology and writing and more, it is a kind of cross-cultural love story. "It is perhaps the most enduring, most endlessly fascinating story of all time," he said. "Can these two people connect across their differences or obstacles?"
Posner said playwright Laura Eason, a former writer for Netflix's "House of Cards," is a theatre artist who he believes in. He's also known her as an actor, director, artistic director, adaptor for many years, and is always interested in anything she is doing. "She is the real deal – smart, insightful, curious, incisive…So I am always interested in her work," he said. He read the piece as a first draft several years ago and has followed it ever since.
"I was thrilled to finally get to direct it," he said.
With "Sex With Strangers," Posner said, "You need two excellent, courageous, generous actors, and I had them in Holly Twyford and Luigi Sottile. My job was simply to approach the project with rigor and integrity and try to be as honest and complex as the script."
He added, "When you have a good, smart, worthwhile story to tell and you have really great actors and designers to do it, directing gets a lot simpler."
Posner said there are a lot of things you can take away from the play. "For most of us, love and connection are so central to our lives that it seems we rarely tire of hearing about it or reading about it or seeing it," he said. "And if the storytelling is honest and rich, then we can leave with new perspectives, new insights into ourselves or our choices, and even new hope for how we might choose to move forward."
"Sex With Strangers" is playing Tuesdays thru Sundays, through Dec. 7, 2014, at Shirlington's Signature Theater, 4200 Campbell Ave., Arlington. A pride night will be held on Friday, Nov. 21; and discussion nights will be held on Nov. 12 and 18, and Dec. 3. There is strong sexual content and nudity in the show. Tickets are $47.55 to $91.15. Visit www.signature-theatre.org or call 703-820-9771.