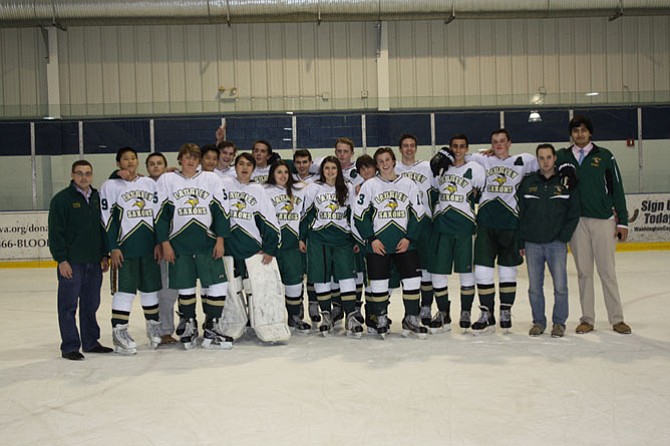 The Langley hockey team started its season with a shaky loss to Flint Hill on Nov. 7, but has been firing on all cylinders ever since. The Saxons beat Herndon 4 -3 on Nov. 14 in their second game with a stellar performance by senior assistant captain Sam Lafuria, who scored all four goals, and steam-rolled McLean 8-2 on Nov. 21 in front of a sellout crowd.
The Saxon Faithful declared a "Whiteout" and showed up in force with 100-plus to support their team. With the stands rocking, junior assistant captain Jason Guidi potted the first goal less than a minute into the game and the Saxons never looked back. Freshman JT Gorman worked between the pipes and came up with several key saves to deny McLean any momentum in the game. Senior captain Will Clemson delivered several hard hits and made it painful for McLean to gain any traction in front of the net.
Although the shot differential remained high, McLean threatened the Saxon lead due to penalties which left the Saxons in 5-on-3 and 5-on-4 situations through much of the second and early third period. McLean was unable to capitalize due to sophomore Kevin Wang and senior Chris Lane, who kept McLean at bay while the Saxons regrouped and prepared for the onslaught. With less than 5 minutes to go in the game, the Saxons came up big with four goals, completing Jason Guidi's hat trick plus one.
Langley will face Bishop O'Connell at 4 p.m. on Friday, Dec. 5 at Kettler Iceplex.