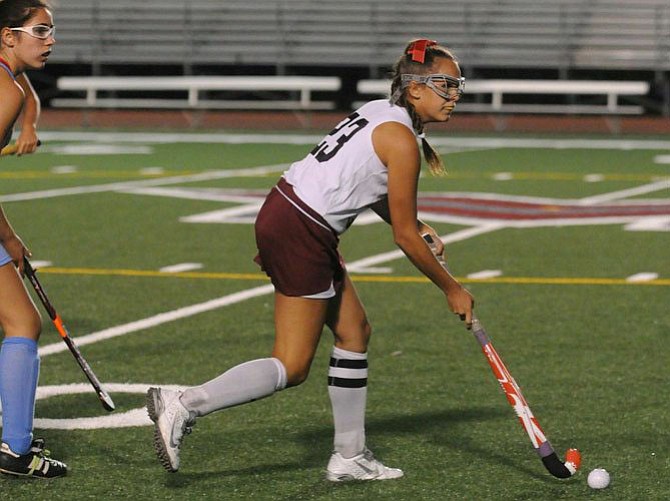 Mount Vernon senior Amber Sable is an all-conference performer for the school's field hockey and softball teams.
In field hockey, Sable recently completed her fourth varsity season and earned first-team all-conference honors. After a rare down year and a 5-13 record in 2013, Sable helped the Majors bounce back in 2014. Mount Vernon went undefeated against Conference 13 opponents during the regular season and qualified for the 5A North region tournament with a third-place finish in the conference tournament.
In softball, Sable is an all-conference shortstop who helped the Majors win 20 games and reach the 2014 Conference 13 tournament championship game. She will enter her fourth varsity season in the spring.
Sable recently participated in a Q&A via email, sharing some insight about her Thanksgiving plans.
*Q: What are your plans for Thanksgiving?
Sable: My family and I are staying at home this year. My aunt, grandmother, and a couple of my cousins are going to have dinner with us.
*Q: Do you or your family have any annual Thanksgiving traditions?
Sable: My mom, sister, and I always watch the Macy's Thanksgiving Day Parade. It's always so fun to watch.
*Q: Does your family incorporate sports into Thanksgiving? If so, how?
Sable: Every year the day after Thanksgiving, [the] Virginia Tech and UVA [football teams] play each other. A lot of my family has attended Virginia Tech, and my sister attends UVA, so the game is a huge deal in my family.
*Q: What is your favorite thing to eat on Thanksgiving?
Sable: Definitely the pie. Pumpkin pie is the best.
*Q: The Mount Vernon field hockey team had a bounce-back season, reaching the region tournament. What are your thoughts on how the season went?
Sable: I was proud of the way our team did as a whole. We were undefeated in our conference during the regular season, and we improved so much since last year. Sure, the outcome wasn't what we wanted, but it was huge improvement from the year before, and that was our goal since the beginning of the season.
*Q: You also play softball at Mount Vernon. The team reached the Conference 13 championship game last year. What are your expectations for this year?
Sable: My expectation as a team is to improve from last year. We had a great year last season. We still have a great group of girls, so I am expecting this year to be even better.
*Q: What are your college plans? Will you play a sport in college?
Sable: I hope to attend the University of Virginia, or Virginia Tech. I don't plan on playing sports in college, but club seems fun.
*Q: What is your favorite movie? Why?
Sable: Probably "The Blind Side." It has a great story behind it.
*Q: What location is the farthest you have traveled from the Washington, D.C. area?
Sable: My mom is from Washington State, so to there.
*Q: Who are your favorite pro sports teams?
Sable: Redskins, Nationals, and Capitals.
*Q: Who are your favorite pro athletes?
Sable: Bryce Harper. I am planning our wedding now.