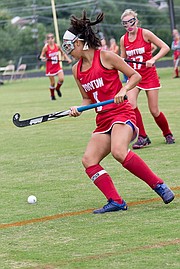 Julia Lee was a key contributor for a Wootton field hockey program that reached the 4A South region final in consecutive seasons.
In 2013, Wootton advanced all the way to the state final before suffering its first loss. This year, the Patriots lost to Bethesda Chevy Chase, 3-2, in overtime in the region championship game.
As a senior, Lee was a team captain and finished with 25 goals and 16 assists. She plans to attend the University of Maryland and play club field hockey.
Lee recently participated in a Q&A via email, sharing some insight about her Thanksgiving plans.
*Q: What are your plans for Thanksgiving?
Lee: We will be having a traditional dinner with my dad's side of the family. On Saturday, my mom wants to have a Cuban Thanksgiving with roasted pork, black beans, plantains etc. I can't wait.
*Q: Do you or your family have any annual Thanksgiving traditions?
Lee: We all help with the cooking. I love to bake the desserts.
*Q: Does your family incorporate sports into Thanksgiving? If so, how?
Lee: We don't really incorporate sports into Thanksgiving. The most athletic thing we do after we eat is go for a long family walk with our dog, Mazzy.
*Q: What is your favorite thing to eat on Thanksgiving?
Lee: Pumpkin pie. I make it homemade.
*Q: The Wootton field hockey team lost in the region final this year. What are your thoughts on how the season went?
Lee: For me, this was the most fun I have had with a team in the four years I have been with Wootton Field Hockey. I thought we had a variation of strengths that really worked together, which built a strong team. Even off the field, we are one big family that loved playing field hockey together. ... BCC was a worthy opponent [in the region final]. I have two good friends on BCC that are amazing players, Cecile Michon and Gigi Jones. I'm happy for their success this season, they were our hardest competitors. For me, it's not about always winning (although I love to win). It's more about the lessons I've learned from being on a team. Field hockey has given me an opportunity to be a captain and a leader of a hard-working group of friends. It was a great experience.
*Q: What is your favorite memory of playing field hockey at Wootton?
Lee: One day our game was cancelled due to rain, so instead we stayed at school and had a cake off. It was so much fun to make field hockey-designed cakes and then to eat them afterward.
*Q: Do you play any other sports at Wootton?
Lee: Outdoor track at Wootton and MSI soccer since my dad coaches my team.
*Q: What are your college plans? Will you be playing a sport in college?
Lee: I hope to attend University of Maryland, College Park and can't wait to play club field hockey there.
*Q: Who is your favorite music artist? Why?
Lee: Lorde. I love her lyrics. They have a lot of meaning and notations behind them that other artists sometimes fail to do.
*Q: What is your favorite movie? Why?
Lee: "The Matrix" is my favorite movie because I like science fiction action movies.
*Q: What location is the farthest you have traveled from the Washington, D.C. area?
Lee: Our whole family, including my grandmother, traveled to Ecuador. We wanted to learn more about my grandmother's background. We spent four weeks traveling to the Andes, sulfur baths in the North and volunteering at an impoverished school in Guayaquil. It was a real culture shock.