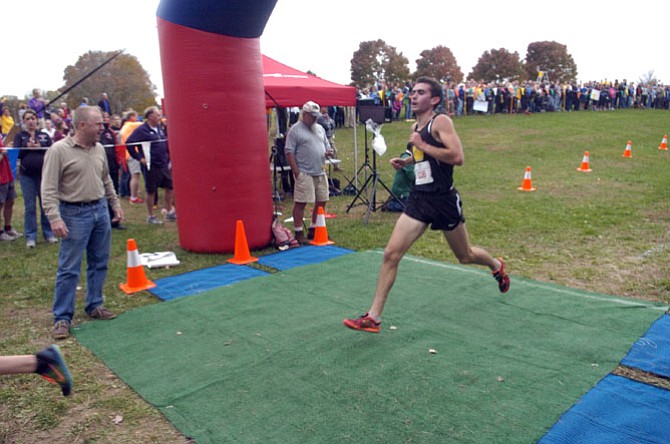 As a junior, Johnny Pace was the first Westfield harrier in 10 years to qualify for the state meet. This year, Pace has been one of the top runners in Virginia.
Pace finished runner-up at the Conference 5 meet on Oct. 30 at Burke Lake Park, placed fifth at the 6A North region meet on Nov. 5 and earned all-state with a fifth-place finish in the 6A race during the VHSL state meet on Nov. 15 at Great Meadow. Pace finished with a time of 15:28.
Pace recently participated in a Q&A via email, sharing some insight about his Thanksgiving plans.
*Q: What are your plans for Thanksgiving?
Pace: This year, most of my Thanksgiving will be spent driving down to Charlotte, N.C., for the Foot Locker South Regional Meet on Saturday. I'm hoping we'll arrive early enough that we won't have to resort to eating drive-thru Thanksgiving dinner while on the road to Charlotte.
*Q: Do you or your family have any annual Thanksgiving traditions?
Pace: My family and I have run the Virginia Run Turkey Trot every year since I was 6. That's an 11-year streak! I will be running it nice and slow just to keep the streak going but don't be surprised if you see me running the same time I ran when I was 6! As much as I'd like to run hard, I have to keep my fresh legs for the Footlocker meet.
*Q: Does your family incorporate sports into Thanksgiving? If so, how?
Pace: Like I said, year in and year out, my family has made the early morning trek to the Turkey Trot starting line and doing so has provided us with reason enough to enjoy eating up during dinnertime.
*Q: What is your favorite thing to eat on Thanksgiving?
Pace: It is impossible to pick one single item. Like a good work of art, Thanksgiving dinner is all in how one chooses to meld and interpret the various components to craft a single magnificent menagerie of deliciousness. Trying to select a single food would be like trying to paint with one color; it simply can't compare to the blending of the full food spectrum.
*Q: You finished fifth at the state meet. How do you feel you performed?
Pace: I'm happy with my race execution. I dropped my time by 30 seconds from last year's state meet, although I have some things to work out in the last mile, which I know could lead to even faster times. I'm looking forward to seeing everything come together this week at Foot Locker and I am hoping I can really leave everything out there and do something special.
*Q: Do you compete in any other sports at Westfield?
Pace: I am a four-year member of the marching band and have enjoyed the journey of being selected to play in the 2014 Rose Parade. It was an experience I will remember for the rest of my life. Moreover, I am a three-season runner, participating in cross country, indoor track, and outdoor track, where I have been a varsity member of the two-time indoor/outdoor regional champion teams.
*Q: What is your favorite sports moment during your Westfield career?
Pace: My junior year, I became the first male Westfield runner to qualify for states in 10 years. The year before, I had been a JV runner and the emotion of having come so far in one year was enough to solidify that meet as one I would never forget.
*Q: You were named Westfield homecoming king. What was that experience like?
Pace: It was a very flattering experience, to say the least. I never would have imagined I would have the privilege of being selected by my peers for king and it certainly made me proud to be a Bulldog. Fortunately, the other class officers and I had been working on a castle float for the Candyland homecoming parade, so the whole king thing fit very nicely with the float.
*Q: What are your college plans? Will you run for the school you're attending?
Pace: I am still looking at colleges near and far but I know that collegiate running is something I definitely want to pursue. I am being careful to assess schools based on academic strength first and then hopefully, they have a strong athletic program to follow. People will tell you the college search process is stressful, but I have enjoyed every step of it! I just hope I will choose a place I feel comfortable being and can grow as both a student and an athlete.
*Q: Who is your favorite music artist? Why?
Pace: Kids these days seem to be aligned with the hip hop scene so I tend to culture myself with the likes of wordsmiths such as Kanye West, although I can certainly appreciate Queen, Stevie Wonder, and most other artists.
*Q: What is your favorite movie? Why?
Pace: Few movies have had such enduring legacies of enjoyment in my own mind as "Napoleon Dynamite." The film's simplicity coupled with its sophisticated level of humor has provided for endless quotability in my lifetime and for the purchase of a genuine pair of American flag workout pants as a result of one of its most iconic scenes.
*Q: What location is the farthest you have traveled from the Washington, D.C. area?
Pace: I traveled with the Westfield marching band to Pasadena, Calif., for the 125th Tournament of Roses Rose Parade last year. It was truly a once-in-a-lifetime experience and if anything can justify the work that goes into a marching band, it would certainly be the feeling of rounding the television corner to look down Colorado Boulevard at hundreds of thousands of cheering observers. Truly indescribable.
*Q: Who are your favorite pro sports teams?
Pace: While I can't call myself an avid sports fan, I have always been a supporter of the Washington Redskins.
*Q: Who are your favorite pro athletes?
Pace: I am an admirer of RG3 for his activism in the community. To see the good he has done in the local area alone is enough to make me proud of his accomplishments, regardless of his recent mistakes on the field. It is character that defines who I look up to, not solely his or her athletic accomplishments.