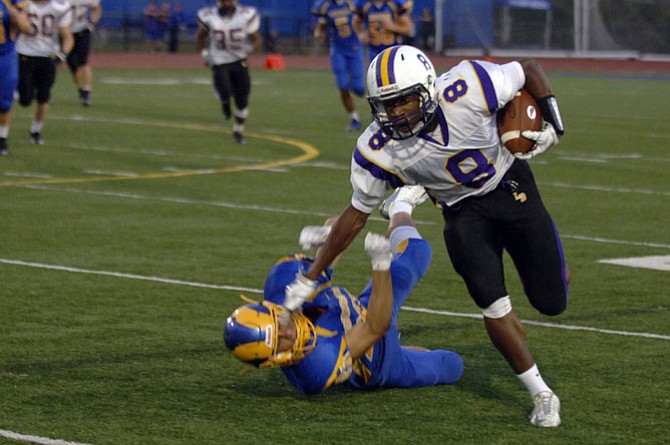 The No. 2-seed Lake Braddock football team secured a trip to the 6A North region semifinals, beating No. 7 Battlefield 13-10 on Nov. 20 in Burke.
Two days later, Bruins running back Lamont Atkins made a decision about his football and academic future.
Atkins, a 5-foot-11, 195-pound junior, committed to Vanderbilt University on Sunday. Atkins has been a primary option in the Lake Braddock offense and figures to be a key contributor when Lake Braddock hosts No. 3 Westfield in the 6A North region semifinals at 1:30 p.m. on Saturday, Nov. 28.
It's the third straight season the two teams have met in the region semifinals, with Westfield winning each of the last two years.
Atkins recently participated in a Q&A with The Connection, discussing his commitment to Vanderbilt, Lake Braddock's upcoming matchup with Westfield and his Thanksgiving plans.
Q: You committed to Vanderbilt on Sunday, correct?
Atkins: Yes. I visited for the game Saturday and stayed to meet all the coaches and tour the facilities and campus Sunday. At the end of the day, I committed to the coaching staff.
Q: What made Vanderbilt the right choice for you?
Atkins: I knew Vanderbilt was the right choice for me before I even visited for the weekend. They are the No. 15 National University in the nation and [head] coach [Derek] Mason makes academics a top priority for the players. I also enjoyed the personalities of all the coaches. They care for their athletes as they would their own kids. They hold you accountable to being a Vanderbilt man and encourage you to be limitless. I also couldn't pass up an opportunity to compete in the SEC.
Q: For what position did Vanderbilt recruit you?
Atkins: I was recruited to play running back.
Q: Lake Braddock pulled out a 13-10 win over Battlefield last week in the quarterfinals. How do you feel your team played?
Atkins: Battlefield was a great team and played well on both sides of the ball. I was proud of my entire team because everyone fought hard for four quarters and pulled out a close victory.
Q: Now you face a Westfield program that has beaten Lake Braddock in the region semifinals each of the last two years. What will it take to beat the Bulldogs?
Atkins: Westfield is a great team and they may have the best defense in the state. We have to execute our game plan and play error-free football to beat them.
Q: You guys will practice on Thanksgiving, correct? What time? How long?
Atkins: Yes, we will practice from 8:30 to 11:30.

Q: What are your plans for Thanksgiving day?
Atkins: After practice, a few of the parents will prepare a real nice brunch for us. It's a privilege to be practicing and having a meal with your team on Thanksgiving because it means your state championship dreams are still there.
Q: What is your favorite Thanksgiving food?
Atkins: I like the fried turkey and my mom's sweet potato pie.
Q: With the football season still going, will you have to make sure you don't eat too much?
Atkins: Don't worry, we have practice at 8:30 Friday morning and I'm sure we will run it off.
Q: Do you or your family participate in any sports­related Thanksgiving traditions?
Atkins: We do not. My mom is the varsity team mom and leads most of the preparation for the team brunch. My dad and little brother will be helping her out too, along with a lot of the other families. After practice and the brunch, we're all tired so we normally just hang out around the house and watch movies.