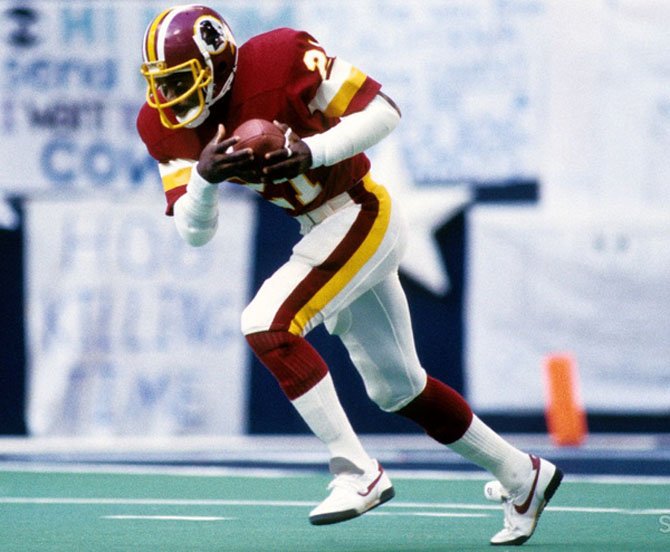 Mike Nelms, a three-time Pro Bowler and Super Bowl champion defensive back and kick returner with the Washington Redskins, will be the featured speaker at the Alexandria Sportsman's Club annual Redskins Night Oct. 21 at the Old Dominion Boat Club.
Named one of the 70 Greatest Redskins of all time, Nelms' path to football fame required ample self-motivation.

"It was all about striking an opportunity while the iron was hot," Nelms said in advance of his visit to Alexandria.

After finishing his college career at Baylor University, he parlayed three All-Star seasons in the Canadian Football League into a lucrative opportunity with the Redskins. The hurdles, however, had begun long before his professional career began.
"It's a difficult path even with positive encouragement," Nelms said. "My high school coaches told me I was too slow, too skinny … but they didn't know my heart. They didn't know I would do everything that was necessary to succeed."
Nelms landed in Washington for the 1980 season, a point at which several other pieces of the legendary Super Bowl XVII squad were already in place. One remaining component would soon arrive in the form of head coach Joe Gibbs, who brought an immediate insistence that they win as a team and lose as a team.

"I'd heard that before," Nelms reflected. "But Gibbs meant it."

Commitment to this principle was emphasized when a well-established defensive player loudly criticized their kicker after an important field goal was missed.
"By the time we got back to the locker room, the star defensive back's locker was empty," Nelms recalled. "The team picked up on the message pretty quick."
Nelms's Super Bowl performance at the end of the 1982 season remains one of the greatest of any kick returner in NFL history.

"I'd never played in a game before where after the National Anthem, the butterflies stayed," Nelms said. "After the National Anthem, the butterflies always subsided. I'd say a prayer and praise God and be ready to go."
The biggest game of his life may have kept the butterflies fluttering, but it wouldn't slow his record-setting day with six returned punts for 52 yards and two kickoff returns for 44 yards. The demands of such a lofty performance did manage to take a toll.
"At halftime, I said my prayer, and just fell asleep in my locker," Nelms said. "If I hadn't, I would've been mentally and physically exhausted. [Redskins Tight End] Donnie Warren woke me up and I immediately realized 'Oh right, the Super Bowl!'"
When asked what piece of advice he would convey to current athletes, he invokes an athletic take on the Shakespearean classic "To thine own self, be true."
"Always play within yourself," he said. "You have to accurately assess your own abilities as well as your opponent's. I never did anything on game day that I hadn't practiced many times previously. Don't beat yourself up unnecessarily … but when it comes to being true to your dreams, you really need to work on your weaknesses."
In addition to sharing his NFL experiences, Nelms will present the ASC High School Athlete of the Month awards. Held at the Old Dominion Boat Club at 1 King St., the event is free and open to the public.
A social hour will begin at 6:30 p.m. with the ceremonies and speeches beginning at 7:15 p.m. Refreshments will be provided by Hard Times Café. For more information, visit www.alexandriavasports.org.