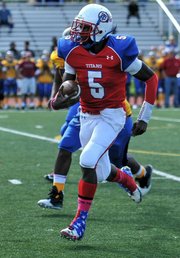 The T.C. Williams defense had no answer for Lee playmaker Jonathan Walters, who amassed 201 total yards of offense and scored four touchdowns during a thrilling shootout in Alexandria.
Luckily for the Titans, T.C. Williams senior quarterback Darius Holland was even better.
Holland accounted for five touchdowns, including a 6-yard run that gave the Titans the lead with 1:25 remaining, and T.C. Williams defeated Lee 40-38 on senior day at Parker-Gray Stadium.
Holland ran wild against the Lee defense, making plays with his legs when the pocket collapsed. The 6-foot-3, 185-pound Holland carried 16 times for 178 yards and three touchdowns.
Holland broke free for a 50-yard run on the Titans' third play from scrimmage. Early in the second quarter, No. 5 scrambled out of the pocket and raced 41 yards for a touchdown. With the Titans down by five late in the fourth quarter, Holland used his legs to convert a fourth-and-20, picking up 23 yards to keep the game-winning drive alive. Three plays later, Holland's 6-yard touchdown run put the Titans ahead to stay.
Holland also scored on a 4-yard run during the opening play of the second quarter.
"That kid, he's the truth," Lee head coach Clarence Martin said about Holland. "Every play we had to keep somebody spying him and he still found ways to make plays. He's a dynamic kid ... and he's a superb athlete."
Holland couldn't get much going through the air during the first half, but junior receiver Colson Jenkins helped inject life in the Titan passing game during the fourth quarter.
Trailing 32-19, Jenkins turned a screen pass into a 59-yard touchdown, escaping Lee defenders before racing down the right sideline.
Down by six, Holland fired a dart to Jenkins in the end zone, but the receiver failed to make the catch. Despite the drop, T.C. head coach Dennis Randolph didn't lose faith in No. 6.
"He's an excellent receiver," Randolph said. "We went back and we ran the same play. ... I said, you're going across the field and they can't cover you."
On fourth-and-10, Holland went back to Jenkins, who made the catch and scored an 18-yard touchdown despite being interfered with by a Lee defender.
"I just had to make up for it," Jenkins said.
Jenkins caught six passes for 105 yards and two touchdowns. Holland completed 13 of 33 attempts for 171 yards and two scores.
"I had confidence that he wouldn't let me down twice," Holland said. "Colson did a great job today."
Holland also played defense for the first time this season, making his presence known with a thunderous hit as a defensive back.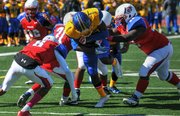 "In situations where they're passing the ball a lot, we've got to put our best athletes back there and Darius is one of them," Randolph said. "He needs to be on the field has much as possible."
The performances of Holland and Jenkins nearly went for naught as Lee's Walters found the end zone for the fourth time, scoring on a 51-yard run to give the Lancers a 38-33 advantage with 2:37 remaining in the contest. But T.C. responded with a go-ahead touchdown with 1:25 remaining, and Lee missed a 43-yard field goal in the closing minutes.
Walters, listed at 6 feet 2 and 190 pounds, carried 10 times for 83 yards and three touchdowns. He had four receptions for 118 yards and a score. He also attempted one pass.
"He is a Swiss Army Knife — that's a great saying," Martin said. "He does it all for us. He's a great athlete, a great kid. He's going to be playing football somewhere in some school next year. He'll continue to do that in college. He's just getting started."
The victory snapped a five-game losing streak for the Titans (2-5), who hadn't won since beating Dunbar of Washington, D.C. in the season opener on Sept. 6. Lee lost its fourth straight and dropped to 1-6.
"They haven't stopped fighting all year," Randolph said.
T.C. Williams will travel to face Lake Braddock at 7:30 p.m. on Friday, Oct. 24. Lee will host West Potomac on Friday.