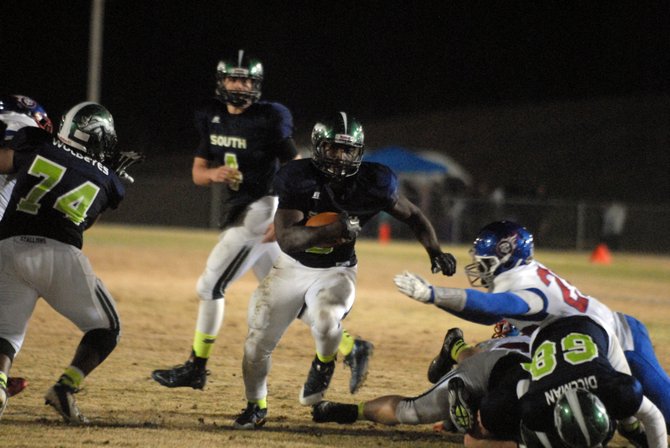 The T.C. Williams football team entered Friday's 6A North region playoff game at South County buzzing with the excitement and energy of snapping a 22-year postseason drought.
The way the Titans entered the field of play, however, lit a fire under their opponents.
As the visiting team, T.C. Williams was the first to take the field as kickoff time approached. Instead of entering through a side gate, the Titans ran through South County's inflatable tunnel as if they were the home team.
"It really made us, figuratively speaking, want to punch them in the mouth," South County quarterback David Symmes said. "That just really [ticked] us off."
The Titans played well early, twice taking a seven-point lead in the second quarter, but the Stallions took control of the game with their up-tempo offense and pulled away en route to a 51-27 victory at South County High School.
A 77-yard touchdown pass from quarterback Darius Holland to Tyrice Henry gave T.C. Williams a 21-14 lead with 6:11 remaining in the second quarter. From there, South County outscored T.C. 37-6 to advance to the quarterfinals. The Stallions will travel to face top seed Centreville at 7:30 p.m. on Friday.
T.C. Williams' pre-game antics resulted in a 15-yard unsportsmanlike conduct penalty, forcing the Titans to kick off from their own 25-yard line. South County benefitted with good field position, starting the game's opening drive on its own 45, and later capitalized with a 38-yard touchdown pass from Symmes to Kevin Quigley on fourth-and-5. It was the first of three South County touchdowns scored on a fourth-down play.
"It really made us, figuratively speaking, want to punch them in the mouth. That just really [ticked] us off."

--- South County quarterback David Symmes
"I thought it was the most disrespectful thing I'd ever seen," South County fullback/linebacker Ed Kargbo said about the Titans' pregame entrance. "It really just hyped us up … for this game."
Kargbo missed South County's regular-season meeting with T.C. Williams, a game the Stallions won 44-37 on Oct. 12, due to a sprained foot. On Friday, Kargbo carried 19 times for 118 yards and three touchdowns. His 1-yard touchdown run, along with a two-point conversion, with 4:20 left in the second quarter gave the Stallions a 22-21 lead they would not relinquish.
"If [Kargbo] just played offense and he played a 10-game season, he probably would have been an all-region player," South County head coach Gerry Pannoni said. "He's good. He's very good. He's one of the best in our area."
Leading 22-21, South County faced fourth-and-4 at the T.C. Williams 45-yard line with 54 seconds remaining in the first half. A defensive stop would have provided the Titans with good field position and momentum heading into halftime. Instead, Symmes connected with running back LeVaughn Davis for a 45-yard touchdown and a 29-21 Stallions lead.
T.C. Williams went three-and-out to open the second half and South County quickly drove into the red zone. On fourth-and-inches, Kargbo ran for a 15-yard touchdown and a 36-21 South County advantage.
"I can only imagine how demoralizing that is," Symmes said about the Stallions' trio of fourth-down touchdowns. "We do a lot of situational stuff in practice. … It's very important to be that versatile and not just have to punt it every time."
While T.C. Williams stayed close early, South County's up-tempo offense took its toll on the Titans. After T.C. took a 21-14 lead, South County scored a touchdown on five consecutive drives. Kargbo's 1-yard touchdown run and a two-point conversion gave the Stallions a 51-27 lead with 1:15 remaining in the third quarter.
"Our offense, we're able to sustain drives and keep their offense off the field, (which was big) because they were making big plays," Kargbo said. "Just little 4-yard gains here and there --- I think it took a toll on their bodies and we were able to come out with the victory."
Pannoni said tempo is an important part of the South County offense.
"If you match us up with a lot of teams that we play," Pannoni said, "I don't know that we're any better physically, but I think that our tempo does a lot."
Symmes and Kargbo each praised the Stallions offensive line.
"They've really carried this offense," Symmes said, "and they don't get enough credit."
Symmes completed 7 of 9 passes for 143 yards with three touchdowns and one interception. He also rushed for 62 yards and a score.
Davis totaled 135 yards of offense, including 90 on the ground. Quigley had two receptions for 64 yards and two touchdowns.
T.C. Williams finished the regular season with a 7-3 record and reached the postseason for the first time since 1990. After falling behind on the game's opening drive, the Titans responded an 11-play, 65-yard scoring drive, capped by a 7-yard touchdown run by junior quarterback Holland.
With the score tied, Titans defensive back Timmy Rattanaphone intercepted a Symmes pass on the final play of the first quarter and returned it to the South County 20-yard line. Two plays later, Holland connected with running back Malik Carney for 19-yard touchdown pass and a 14-7 Titans lead.
South County tied the score at 14-all during its next possession, but T.C. responded with a 77-yard touchdown pass from Holland to Tyrice Henry with 6:11 left in the second quarter.
That's when South County started to pull away. Holland scored on a 77-yard run with 4:52 left in the third quarter, cutting the South County lead to 43-27, but the Stallions were too much.
"They took us out of our game plan," T.C. Williams head coach Dennis Randolph said.
Holland completed his first seven passes but missed on 12 of his final 14. He finished 9 of 21 for 161 yards with two touchdowns and an interception. He also rushed for two scores.
Henry had four receptions for 102 yards and a touchdown.
Friday's game was the last for the T.C. Williams seniors, including Carney and lineman Jeremiah Clarke, who are both committed to the University of North Carolina.
"I feel bad for our seniors," Randolph said. "They had a great run."