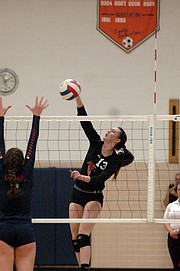 Kelsey Smith wasn't quite sure how she did it, but when the Madison sophomore stepped to the service line Thursday night, it was the West Springfield Spartans who were left looking puzzled.
With Madison leading 11-5 in the fifth set, Smith produced three consecutive aces, helping the Warhawks beat the Spartans 3-2 (23-25, 25-18, 23-25, 25-15, 15-6) in the 6A North region volleyball tournament semifinals at West Springfield High School.
Madison (21-5) secured a state tournament berth and a trip to the region championship match for the second straight season. The Warhawks will host Langley (23-5), which beat Battlefield in Thursday's other semifinal, at 6 p.m. on Saturday.
Smith's back-to-back-to-back aces gave Madison match point. After West Springfield scored on a Warhawk error, Madison outside hitter Jaynie Carter ended the match with a kill.
"She's got, like, this little hook thing going on," Madison head coach Carrie Hall said about Smith's serving technique. "… We moved her (along the service line) to where she's more comfortable."
Smith, a middle blocker, finished with eight aces.
"I guess it's the way I turn my body," Smith said when asked what makes her serve so tough to handle. "To be completely honest, I'm not really sure. It just kind of works."
Smith was on the varsity team as a freshman last season, but saw limited postseason action during the Warhawks' run to the state final. Thursday's win-or-go-home region semifinal was the most pressure-packed match Smith has played in at Madison, but No. 14 said she wasn't bothered by the atmosphere --- thanks in part to her teammates.
"Everyone's super supportive on the team and even if you do happen to make a mistake, no one gets mad at you, which I think is really awesome," Smith said. "I actually felt really calm. I think it's because I was surrounded by the team. I felt … clutch."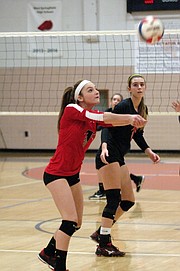 While Smith's teammates made her feel comfortable, Madison's senior trio of Carter, outside hitter Natale Zanellato, and setter Kendal Hall also succeeded in making plays, helping Madison overcome dropping two of the first three sets.
After West Springfield won the third set and took a 2-1 lead in the match, Zanellato responded with six kills in the fourth set, helping the Warhawks win 25-15.
"I thought No. 13 (Zanellato) really stepped it up in the fourth set," West Springfield head coach Stephanie Noriega said.
Zanellato finished with a team-high 15 kills.
A kill by West Springfield outside hitter Brittany Padgett gave the Spartans a 1-0 lead in the fifth set, but Madison took control by scoring eight of the next nine points. The Warhawks also scored five of the final six points, including a pair of Carter kills.
Carter finished with 12 kills. Junior right side hitter Emily Calhoun had seven kills and two blocks. Kendal Hall totaled 39 assists.
Padgett and Megan Marin each had 12 kills for West Springfield. Tyler Wernecke had 18 digs and Jasmine Roy had 14 digs. Sara Khatouri totaled 34 assists, and Hailey Olsen had a team-high six blocks.
Madison and Langley will meet for the fourth time this season in Saturday's region championship match. The Warhawks took two of three from Langley, including a sweep of the Saxons in the Conference 6 tournament championship match on Nov. 5.
West Springfield finished the season with a 17-4 record. The Spartans won the Conference 7 championship by sweeping Lake Braddock on Nov. 5, the program's first conference/district title since 2007.
"That was our goal all season long," Noriega said. "We looked at our banner every single day before practice started and visualized the 2015 going up there. We knew all season long that we were going to capture the [conference] championship."
More like this story