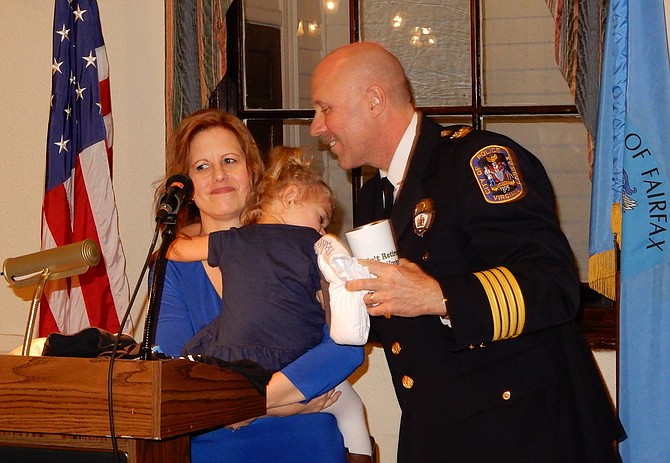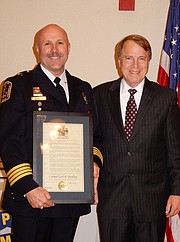 Friends, family, colleagues and City of Fairfax officials and staff gathered Nov. 16 in Old Town Hall to bid a fond farewell to Police Chief Carl Pardiny on his retirement after three decades of service to the City.
"There is no doubt about the respect and gratitude we have for Chief Pardiny," said Mayor David Meyer. "There is much to affirm and much to be thankful for."
"The proliferation of weapons and their increased lethal power has made law enforcement an ever more dangerous profession," he continued. Meyer said officers must balance their own safety with citizens' civil liberties, plus provide the kinds of services a community requires.
"Through all these changes, we've been fortunate to have a police force of exceptional competence, professionalism, superior integrity and a deep and genuine commitment to serve our citizens," said Meyer. "Carl Pardiny has led our Police Department through these times of change with the finest example of a servant leader."
He said Pardiny provided a "clear, strategic vision for all his employees and established high standards of accountability. And he's cared deeply about each officer under his command, their families and the citizens he's served."
MEYER said the City's low crime rate is just one measure of the chief's success, but an important one. "He also leaves this department with a culture of high, ethical standards and where officers work collaboratively to support each other and hold each other accountable. That is a profound legacy."
He then thanked Pardiny's family members for the sacrifices they made so he could do his job well "I'm certain there were many missed dance recitals, school award ceremonies, science-project presentations and other family events," said Meyer. "But Carl's family has always been the number-one priority in his life, and you are most fortunate to have him."
Addressing Pardiny directly, Meyer said, "Carl, on behalf of my colleagues on the City Council – and all the citizens of the City of Fairfax – we thank you for your service. We wish you every blessing in the future."
He then presented Pardiny with a proclamation detailing his many personal and professional achievements. He said Pardiny's career was spurred by his father-in-law who – eager to get newlyweds Carl and Cathy out of his Pittsburgh basement – showed Carl an advertisement for a police officer in the City of Fairfax. Pardiny then worked his way through the ranks from officer to colonel, while also being a parent of two daughters and teaching students in GMU's criminology program.
Next, police Sgt Ronnie Lewis called Pardiny "a great leader and an inspiration to myself and others in the Police Department. Thank you for everything you've done, and we hope you have a great retirement."
"For over 16 years, Carl has been my friend," said Acting City Manager David Hodgkins. "People always say he's the nicest cop they ever met, and he's one of the most recognizable and well-known people in the City of Fairfax."
And Vicki Wood, from Pardiny's neighborhood, said she hoped the City's new police chief will be someone like him.
"Carls's dedication to Fairfax started the very, first day," said his wife Cathy. "This has been a really great place to live." Then, presenting him with a T-shirt reading, "Retired; under new management – see spouse for details," she said he can now do her "30-year, honey-do list."
STEPPING TO THE PODIUM, Pardiny said, "It's been a wonderful career; I can't think of a better way to wrap it up than here with my family and friends. I wanted to create a life for my family here; and once I found Fairfax, I never wanted to leave. I know this City like the back of my hand, and it's amazing, the stories I have. I've spent the last several weeks reminiscing, when the rest of my life has been about looking ahead."
Noting how much he has to be thankful for, he said he learned a great deal from his past chiefs. "For 13 years, Rick Rappaport mentored and taught me," said Pardiny. "And I tried to learn as much as I could from our elected officials. I enjoyed their hard questions and challenges and making sure our department was accountable."
He said it all starts with hiring great people. "And we're constantly looking at trends and making sure we're doing the best we can, plus fostering higher education and giving them the best equipment and training," said Pardiny. "We're more diverse and well-educated than we ever have been in this City, and our department follows suit."
"I've led my life trying to be positive," he continued. "We focus on the glass half-full, but we couldn't do it without the community. Thank you all so very much for all your support and thank you all for being here."