While many are making last minute preparations for Halloween, some local merchants are putting the final touches on their Christmas displays.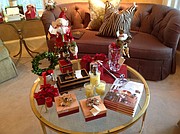 Indeed, shops, especially small specialty stores and gift shops, are unveiling their holiday décor. Two Potomac home furnishing and accessory boutiques are hosting holiday open houses during the first two weekends in November. JT Interiors and Flora's Feathered Nest, both on River Road, will unveil holiday wonderlands the first and second weekends of the month, respectively.
JT Interiors' open house will be Saturday, Nov. 1 from 11 a.m. to 6 p.m.
"We're a specialty shop," said Terri Downs, owner of JT Interiors. "The things that we have are unusual. When people come in to shop, they are looking for things that can't be found in big box stores. We sell a lot of custom-made items that you can't find in big box stores. It's first come first serve — once they're gone, they're gone."
Shoppers can enjoy refreshments while browsing through the festive boutique. "Our Christmas trees and Christmas decorations will be out," said Downs. "We will have Christmas candles, potpourri, pretty hostess gifts, cards, and we carry a nice line of Michael Aram products."
Some of the holiday merchandise will be on sale.
The following weekend, Nov. 7, 8 and 9, the halls of Flora's Feathered Nest will be decked with holiday cheer.
"This old barn really shines this time of year," said Marcia Copenhaver, owner of Flora's Feathered Nest, describing her shop. "We offer the finest in natural or big punches of color. I have designed these trees for 20 years. I am constantly looking for something new. Ribbon can make any concept new. I am not timid in my designs, but make it possible to reproduce."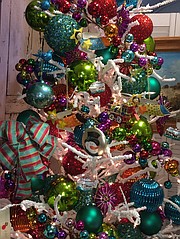 For those who need help pulling together the décor, both stores offer personal design services by appointment. Some shoppers appreciate the personalized attention.
"I only shop at boutiques," said Erin Corsig of Potomac. "First, I hate the crowds and impersonal customer service at larger stores. I like the individual attention that you get in small boutiques. And I love to keep my money in the community."