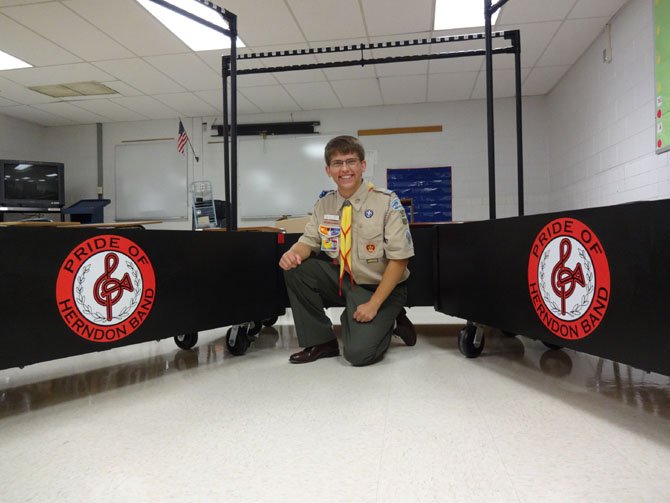 Ryan Jasmann, with Boy Scout Troop 157, based out of Herndon United Methodist Church, dedicated his Eagle Scout project to benefit the Herndon High School Band program. His Eagle Scout Project consisted of refurbishing and repairing five of the uniform carts and one hat box for the Marching Band. "When considering my Eagle Scout project, I wanted to provide a service for an organization which had made an impact on me. The band program promotes teamwork, loyalty, leadership and respect for yourself and others. This organization was a true inspiration for me and I wanted to give back to it," said Ryan. The project took place over two days to complete in July.
Criteria of the Eagle is to lead a project with assistance from friends, family and fellow scouts. Ryan engaged close to 80 people for the first day of the project and almost 50 the second day. He enlisted many people from the band organization, band alumni, various Boy Scout troops, Order of the Arrow chapters and the community. Ryan was thrilled with the number of people who wanted to assist on this project.
The project included removing the old boards from the carts and disposing of them, adding new, larger and more durable wheels, assembling new, thick, more durable boards to the bottom and sides of the cart, applying new black paint to all areas of the cart, and applying the new band logo graphics and numbers. Ryan received the graphic materials as a donation from Chroma Imaging in Herndon. Wirth Cabinetry, also in Herndon, supplied boards and allowed Ryan to use their equipment. One of the employees at Wirth was especially helpful in the advice he gave Ryan in planning for the project. Ryan felt the advice he received from Wirth Cabinetry was instrumental in the success of the project.
Kathleen Jacoby, HHS Band Director, was very pleased that Ryan chose the band to benefit from his project. Upgrades to the carts and hat box were greatly needed for this school year.