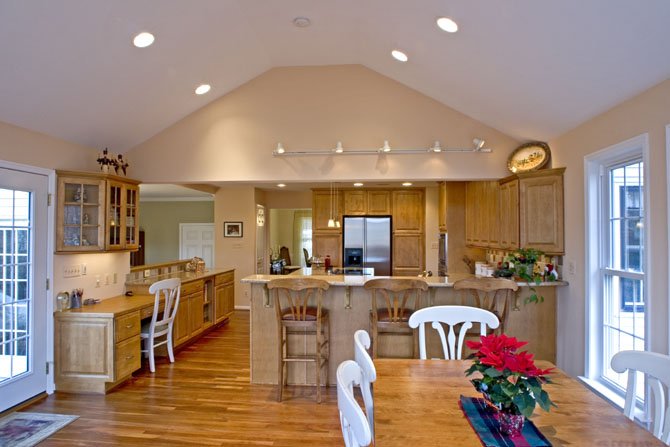 If you compare the current home remodeling market to 2007, it's clear that homeowners are less likely to execute a top-to-bottom makeover in a single stroke than they were five years ago.
Home resales are rising again, but the belief that every dollar spent on a Northern Virginia home will be quickly recovered has been suspended—if only temporarily—as homeowners reassess.
For most local homeowners, a house is an asset of enormous personal appeal: an expression of identity and aspiration, periodically adapted to life's changes.
While the scale of the average project may be smaller, it's evident that many homeowners in middle age or older have come to see the home as a long-term—even lifelong—work in progress, one that they take up passionately, and at regular intervals.
Veteran remodeler David Foster calls these homeowners "incremental" improvers, and has come to see them them as the primary focus of a home improvement enterprise he started 30 years ago.
As president of Foster Remodeling Solutions in Lorton, Foster regularly coaches his team on the importance of understanding what these homeowners need, what they are expecting and how to articulate their best options with clarity.
"Providing an experience that the homeowner will value unequivocally is probably our most important marketing activity," Foster said. "Our core belief is that there are many homeowners who will make a notable home improvement every two to five years, so we place a high priority on earning that person's trust. In this sense, there is nothing more important than outperforming expectation."
WHILE THERE MAY BE many reasons why a homeowner will remodel in stages, Foster observes that the typical incremental improver has a pay-as-you-go orientation—often driven by evolving family requirements.
Vienna resident Kelly Grems, for instance, has executed four remodeling projects with Foster starting with a kitchen addition in 2003.
"We bought the house in 1995 when I was pregnant," Grems said. "My husband [Ed] and I had been living in a much smaller house in Maryland, but envisioned a traditional home that would offer our growing family lots of useful activity areas."
A kitchen with a sizable breakfast room was the first item on the "wish list," an assignment complicated by the fact that home's rear elevation backs into a woodland set-aside and a notably precipitous drop.
"The ground level decking was already in place," Grems said. "But David showed us a plan for an elevated breakfast room extension built on pilings that wouldn't require a ground level foundation. Turns out, this solution created a welcome canopy for the ground level patio. And it was also a more sensible, economical choice for us at the time."
Grems says her first step was handing Foster a file of articles on kitchen interiors she had clipped from Southern Living; the Foster Remodeling design staff then took over, helping the couple visualize design ideas with the aid of a CAD computer program. The team also provided an array of relevant finish work choices, mostly pointing to readily available considerations on display in the company's showroom.
"The selection and pricing process was transparent, and really anticipated what we needed," Grems said. "When you're as busy as we are, you appreciate this quality of support."
Apart from budget considerations, Grems said taking a pause between projects allowed the couple to pay more attention to how the family is actually using the house, and to develop ideas that work for everyone.
The recently completed family room upgrade didn't become an immediate action plan, for instance, because the family design process was fomenting slowly—again starting with magazine articles and other sources.
"We're particular; we let the look come to us piece by piece," she said.
In the end, Foster Remodeling designers created interior elevations that bear no resemblance to the original.
The half-brick floor-to-ceiling backwall was replaced by perfectly symmetrical built-ins, crown molding and an elevated hearth with a marble surround and Edwardian-style mantle.
"It's an entirely different mood from the sun room," Grems says, "and perfectly satisfies another dimension of our lifestyle."
ON A SIMILAR NOTE, Sandy Nusbaum, of south Alexandria, attributes her periodic home upgrade inclinations to a gradual but decisive recognition that the four bedroom colonial she has occupied for 28 years with husband Mike is the last single family residence the couple will ever own.
"We raised three children here, and when the last of them moved away, we looked at other houses in the area and even a retirement village in North Carolina," Nusbaum said. "That's when I renewed my appreciation for the many advantages of this house. I recognized that everything we wanted was already here; we just needed a few pointed improvements to take us into the foreseeable future."
Initially that meant introducing an open, "kitchen-centric" plan in the back half of the house, and creating an outdoor component—in the form of a 16-by-16-foot back screen porch—that allows for easy warm-weather circulation.
Replacing a wall between kitchen and dining room with a three-stool dining counter proved an effective starting point to delineating a more interactive entertainment space. The new surface is also well-positioned as a serving station for al fresco porch dining.
Although the needed structural changes were relatively minor, a new shelled-in niche for the refrigerator allows for additional storage. Maple cabinets with a Barton door style and honey-spice stain evoke a clean linear look within a softly lit ambiance. Likewise, the Silestone quartz surfaces in ebony pearl provide a tonal and textural contrast.
With a better rationalized kitchen in place, a few years later the Nusbaums began planning a follow-on phase: an extension of the rear family room, an open-air grilling deck and a layout that permits children, grandchildren and many guests to circulate freely through a now wide-ranging entertainment suite.
Then, just last year, the largely unused lower level was converted into a multi-purpose suite that serves as both an exercise room and guest accommodation.
"The built-ins include closets on either side of a new Murphy bed—one exclusively for guest use," Nusbaum said. "We also made the laundry room more functional and added a full bath with handicapped access."
Meanwhile, Nusbaum uses the re-made lower level for her daily treadmill workouts: "It's a luxury having so many useful things exactly where you want them."
JUST BLOCKS AWAY, Steve and Diane Piper purchased a circa 1980s Colonial a few years ago, pleased with the home's lovely wooded setting, but keenly aware that original builder-grade kitchen had never been improved in 30 years.
"The rear of the house was designed as a great room with a kitchen and designated breakfast nook that segues to a family room with a brick hearth. There's also a sizable back porch along the rear of the house, which you had to access from the family room," Diane Piper said.
"Our goal was not simply to improve the amenities, but to really develop a better rear-house circulation plan—one that confers privacy where needed, and also makes it easier to take advantage of the porch."
Piper said several comparatively simple changes implemented by Foster made all the difference. A food preparation island, supplanting the existing U-shaped counter, makes it easier for Piper to both cook and entertain. Better yet, the wet bar room divider between the kitchen and family room gives the area around the hearth a sense of intimacy while retaining sightlines.
Relocating the door to the kitchen-side of the wet bar has also coaxed the back porch into the home's mainstream.
"The wet bar is a significant step-saver," Piper said. "The whole back of the house is much better rationalized."
And success breeds success. The Pipers were, in fact, so pleased with the kitchen, they pressed on with a master bathroom upgrade less than a year later and last month remodeled the first floor powder room in a plan that includes a Mediterranean-style foot bath ringed in glass and mosaic tiling.
The artfully-executed first floor facility—planned with an assist from Foster Remodling Solutions designer Sarah Wolf—includes a vessel basin with exposed copper piping, marble floors and a coffered ceiling with concealed lights.
The Pipers—who often travel internationally—say the foot bath is a pleasant convenience in the summer when they are often wearing sandals.
"I wouldn't say it adds anything to the resale value," Diane Piper said, "but then we do plan to be in this house for at least another 10 years."
And speaking of personal vision: after re-doing the front elevation—and before remodeling the kitchen—the Baldinos of Springfield had Foster design a screen porch with a floor-to-ceiling stone hearth. The porch is closed on three sides and features a 15-foot cathedral ceiling with an overhead rotating fan. The project included an extensive flagstone patio, a privacy fence, a retaining wall and landscaping.
"We wanted space that brings us into the outdoors, and the fireplace keeps the porch surprisingly comfortable in cooler weather," said Nancy Baldino. "It's a great place to watch the game."
The Baldinos, who have lived in their circa-1970s split-level for 24 years, say that their four remodeling projects have always been focused and budgetable.
"We love the neighborhood, so the improvements are just a natural result of efforts to make the house feel even more like home."
Staff at Foster Remodeling Solutions periodically offer workshops on home improvement topics at the Lorton showroom. Call 703-550-1371 or visit www.FosterRemodeling.com.