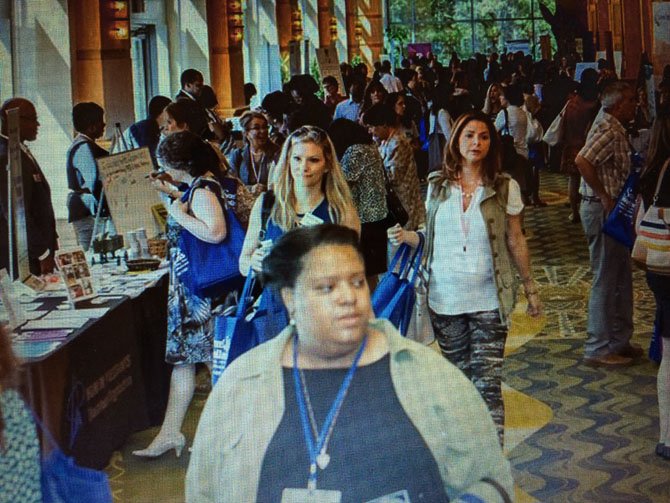 Nancy Regelin, a Potomac-based attorney, decided to give women-owned businesses a boost, so she coordinated an event at the Convention Center in North Bethesda. Now in its fifth year, the Power Conference: Women Doing Business is a women's business development conference.
It's hosted by an alliance of four local women's business organizations: Women Business Owners of Montgomery County, Women Business Owners of Prince George's County, Women Presidents Educational Organizations of D.C., and Women in Business Education Foundation.
"The four organizations pulled together resources, connections and ideas from a large network to create a regional conference of a large scale. It's a great example of how something much bigger can be created when strategic alliances work together," said Regelin. "We are fortunate to have a strategic partner in Montgomery County Economic Development that assists with the venue at the Montgomery County Conference Center."
The organizers wanted to do a conference for both women who owned businesses and women growing their careers that focused seriously on business development.
"We chose both the keynote speaker and the workshops so that participants have an opportunity to learn business skills, trends, creativity, technology and personal development so both they individually, and their companies, can grow and prosper," said Regelin.
There were about 740 registrants from the Mid-Atlantic region. "We had 50 … speakers presenting … from a wide variety of industries and on a broad range of business topics," she continued.
Among the speakers was Potomac-based firm sasse agency whose talk was called "Ensure business growth with a little sasse: Learning how to create a PR, Marketing, Social Media strategy that is simple to implement."
"We explained to our audience … if you're not making a publicity splash, no one will know you exist," said Cari Shane, one of the firm's partners. "If you don't market the true essence of who you are and what your business does, no one will understand what you do. And if you don't connect with your customers in social media, no one will know you are there. "
Julie Schumacher, who is also with sasse, said the presentation was well received. "We had a great turn-out and the feedback was positive, including the follow-up requests for consulting and additional speaking engagements," she said. "Our presentations are always very interactive. We included fun quizzes about social media and had a great time with interactive branding, PR and social media exercises."
The conversation continued after their presentation. "Many participants met with us after the talk with specific questions relating to their own social media experiences," said Schumacher. "For example, 'Is social media really that important for my business?' and 'Which social media venue should my business focus on?'"
"We had 50 … speakers presenting … from a wide variety of industries and on a broad range of business topics."

—Nancy Regelin, Power Conference organizer
Regelin said the Power Conference also supports the StartRight Women's Business Plan Competition managed by the Maryland Women's Business Center and Rockville Economic Development Inc. by celebrating their awards to the winners at the Power Conference.
"Since the overarching theme is business development, we look to how we can accomplish that for every type of participant," said Regelin. "We provide over 40 opportunities for women to be speakers, over 90 opportunities to exhibit, promote local women authors at our Bookseller's Café, provide access to procurement directors in small group discussions, partner with over 30 regional business organizations to promote their missions, offer sponsorships at every level starting at $600 up to $15,000, offer marketing and advertising opportunities to reach this target market of regional business leaders, provide leadership development on the conference organizing committee, internships and, of course, educational and networking opportunities for attendees in both small group discussions and larger workshop formats."