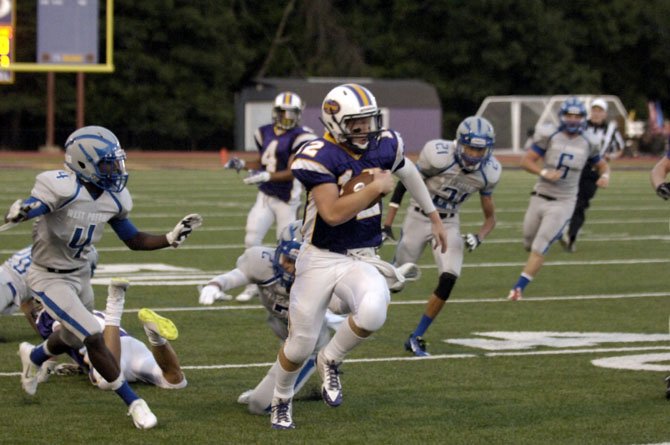 Kyle Edwards started 13 games at safety and outside linebacker during his sophomore year, but the experience failed to fully prepare him for Aug. 29.
After an offseason of hype and questions, Edwards made his first start at quarterback for the Lake Braddock football team. He replaced All-American Caleb Henderson, now a freshman with the University of North Carolina Tar Heels. Facing West Potomac on the Bruins' home field, Edwards assumed his role as field general for a Lake Braddock program that has won five consecutive district championships.
"I started 13 games last year but not at the position I'm playing right now," Edwards said following Friday's season opener. "Definitely, that first quarter, throwing the ball was kind of awkward. … Playing 13 games on the defensive side of the ball, that's a whole different mindset. I was definitely prepared for the speed and the physicality, but I had to get used to throwing in front of 2,000 people."
Edwards struggled at times, but the junior did enough to lead Lake Braddock to a 30-6 victory over Conference 7 foe West Potomac. Edwards had a rough night in the passing game, completing just 8 of 19 attempts for 104 yards, but had multiple throws dropped by receivers. Edwards also lost a pair of fumbles.
On the positive side, No. 12 rushed 15 times for 109 yards and two touchdowns. His 32-yard scoring scamper early in the fourth quarter gave Lake Braddock a 24-0 lead.
"I thought the quarterback did well [for his] first time out," Lake Braddock head coach Jim Poythress said. "We dropped a lot of balls."
What has Poythress told Edwards about replacing Henderson?
"Be himself, that's it," the coach said. "Really, what else can you say? We've produced quite a few quarterbacks and we expect him just to maintain the status quo and get it moving. … I thought he ran the ball well, he was effective on most of the passes. How many were dropped?"
After the game, Edwards discussed how he's handled the repetitive questions about replacing Henderson, who led Lake Braddock to a 21-3 record over two seasons and helped the Bruins reach the 2013 6A North region semifinals.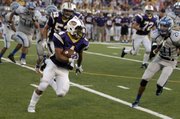 "As many times as I've been asked about it, it doesn't cross my mind when I'm out on the field," said Edwards, who is listed at 6 feet 2, 210 pounds. "We're trying to do something ourselves. I was part of a team last year, we were 12-1, and now we have to start from scratch. … People ask me questions, but I'm not really thinking about it, honestly."
Edwards won't have to carry the offensive load by himself. Against West Potomac, senior running back Dejoun Lee rushed 16 times for 147 yards and two touchdowns. His 60-yard touchdown run gave the Bruins a 30-0 advantage with 6:20 remaining in the fourth quarter.
"[West Potomac was] running after him all night," Poythress said. "… When he gets loose, he's a problem for people."
Lee has faith Edwards can perform at a high level.
"We can't live in the past," Lee said. "We had a great quarterback, we're going to develop a just-as-good quarterback, hopefully, for Kyle's sake. I think he can be that good, and I think he will be that good."
Senior receiver/defensive back AJ Alexander, listed at 6 feet 4, 225 pounds, is a Division I recruit. On Friday, he caught two passes for 54 yards and finished with eight tackles and a pass break-up.
What has it been like transitioning to a new quarterback?
"It's different. It's not better, it's not worse, it's just different," Alexander said. "You've got to work on your timing. [It was] two years … with Caleb Henderson, getting the same kind of ball every time, as opposed to having someone come in and throw you a ball differently."
Lake Braddock's next challenge is a home game against Stone Bridge at 7:30 p.m. on Friday, Sept. 5. Edwards figures to get more comfortable in his prominent position as the season progresses. Maybe he'll even have fewer questions to answer about replacing Caleb Henderson.
"Caleb Henderson is a heck of a player and his legacy deserves to be asked about and I hope he does well at UNC," Alexander said. "But it's on to a new chapter now for him and Lake Braddock football with Kyle Edwards as our new quarterback."