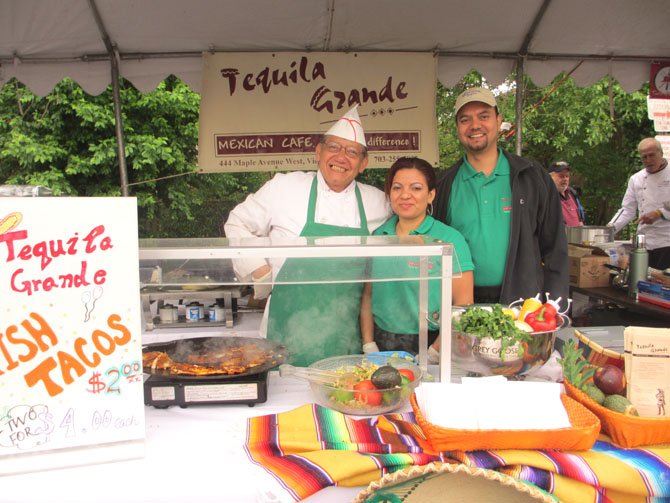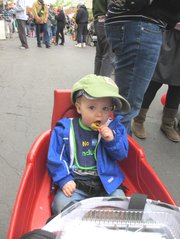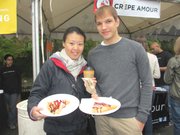 Vienna went on a global food odyssey on April 28 as the Vienna Volunteer Fire Department [VVFD] hosted its inaugural Taste of Vienna food festival on fire station grounds. Thirty tented food vendors lined the periphery of the parking lot, and, in the center, canopies covered tables and chairs for eating the myriad of dishes. Taste of Vienna is a first-of-its-kind fundraiser for Vienna's fire department.
Within an hour of its 11 a.m. opening, the grounds were packed with friends and families sampling the offerings, from the exotic to the popular. Watching preparation of dishes, from Tequila Grande's fish tacos and Crepe Amour's strawberry/banana Nutella crepes, to Culinaria's demonstrations of cooking techniques such as that of homemade pasta, was as much a part of the experience as was eating. And there was no question about it, people came to eat.
"This is pretty cool," said Mona Jantzi, whose husband, Matt Connor, had been driving by earlier and saw the festival set up. The couple, with their two children, were snacking on Vienna Inn hot dogs and bread-and-dip from Whole Foods. "It's great and we're having a good time."
Shortly after noon, the line waiting at Crepes Amour grew 30 deep. It was worth the wait because you could close your eyes and imagine you were eating crepes bought from a stand in Paris. The chocolate-drenched almond brittle from Sweet City Desserts chased the rain clouds away temporarily; it was that good.
La Sandia charged nothing for samples of its pork carnita-topped corn masa appetizers. Donato's Pizza, in the spirit of the fundraiser, planned on donating 25 percent of their proceeds to the Vienna fire department.
Vienna Vintners served wine and beer and even supplied heat lamps early on. Musicians performed on-stage, and VVFD had planned on airing the Capitals game on a big-screen TV. Rain, however, put a damper – literally – on the festivities when showers shooed customers and many vendors away shortly after 6 p.m. A couple of restaurants sold out by late afternoon.
"We love coming to all these festivals," said Bill Barnhart, visiting from Herndon with his wife, son and daughter. "We like them all, but especially the events benefiting the community."