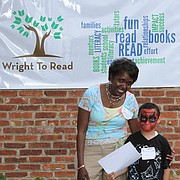 Jacqueline "Jacque" Walker and Danny participate in the Wright to Read mentoring program. Here are their views on mentoring:
From Danny
I nominate my volunteer, Ms. Jacque, to be mentor of the month. We have been working together now for over a year. I look forward to seeing her every week. Sometimes, I wish I could see her more.
We read "Diary of a Wimpy Kid" books and stories that have a lesson to them. She helps me with my reading and with my homework. I have learned from Ms. Jacque that reading is fun and that it is important.
We have lots of fun aside from tutoring. We have gone to Bertucci's and to eat frozen yogurt. I enjoy it when we play bananagrams. We also have fun at Wright to Read events. I enjoyed when I got my face painted as spider man at the annual picnic.
Ms. Jacque is a good mentor. She is nice and kind. She makes my life exciting!
From Ms. Jacque
What started out to be a service activity for another organization became a life-changing experience. Danny has not only captured my attention, but he has captured my heart. He is polite, well-mannered, and excited to achieve. I have learned what a critically important role I play not only in his educational development, but also in helping him to grow and set goals and plans for his future. Danny loves learning and is growing in his confidence weekly.
Wright to Read has offered many enrichment activities that both Danny and I have enjoyed. One in particular was a trip to Huntley Meadows Park. We had read and studied about owls. It was exciting to see what we read come alive when we went to the park and listened to the live presentation about owls.
My student, Danny, loves contest and challenges. Wright to Read has supported his passion for competition and come up with several different contests that motivate Danny to read. It's really true. Even children can have significant influence and be a source of change. I've learned that caring through our actions and deeds offers the students a hope for a bright future. "Encouragement" is a key to unlocking exciting, new adventures and opportunities that await them.
Wright to Read provides volunteer-based one-on-one sustained literacy tutoring and mentoring relationships to City of Alexandria elementary school children in need, and collaborates with families, schools and community partners to create a comprehensive support network that guides each child to success. Wright to Read is a member of the Alexandria Mentoring Partnership (AMP). AMP was created in 2006 to ensure that quality mentors and mentor programs are available for Alexandria's youth and young adults in need. There are 11 professionally managed programs in the partnership that need adult mentors. To learn more about AMP, visit: http://www.alexandriava.gov/Mentoring