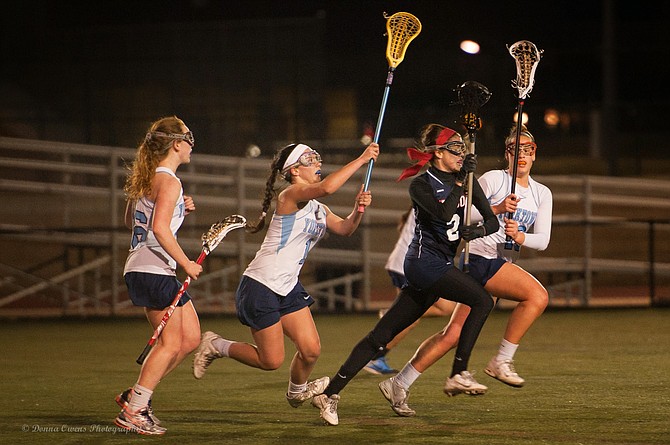 "It's how you bounce back from a loss that's going to show what you're made of and get you ready for the next game."
— Yorktown girls' lax coach Crystal Fraser
The Yorktown girls' lacrosse team's motto of "mental toughness" was put to the test following the first game of the season, when the Patriots opened the 2015 campaign with a 22-11 loss at home against a talented Centreville team on March 16.
"We are working toward mental toughness and being resilient," head coach Crystal Fraser said. "It's how you bounce back from a loss that's going to show what you're made of and get you ready for the next game. We told them not to get down on themselves, ever. It's just one game, we have the entire rest of the season."
It's been smooth sailing since, as Yorktown responded with five consecutive victories. The Patriots have blown out Mount Vernon (14-0), Edison (17-5), Hayfield (16-1), Falls Church (15-4) and McLean (19-12) to improve to 5-1. But while Yorktown has experienced early-season success, the Patriots are about to enter the toughest part of their schedule.
Monday's game at Chantilly was postponed due to lightning. The Patriots' future opponents include Annandale (April 22), rival Washington-Lee (April 28), Langley (May 5) and defending state champion Westfield (May 8),
"We're looking forward to getting into the heart of our season," Fraser said, "and showing what we've got."
Leading the way for Yorktown has been the team's three senior captains: midfielder Kristen Somers, attacker Margaret Doyle and goalkeeper Erin Morrissey. Somers, who came back from a concussion last season, is committed to VCU. Morrissey is committed to Bowdoin.
"They're just great leaders on and off the field," Fraser said. "The girls really look up to them. They've been on my team all four years."
After winning its eighth consecutive National District title in 2013, Yorktown continued having success in 2014 during its transition to Conference 6, reaching the conference championship game. Yorktown finished runner-up, losing to Madison.
The Patriots then lost to Robinson in the opening round of the regional tournament.
"We're always trying to go further than we did the year before," Fraser said. "We say that every year. This year, I think our team plays very well together and I think they have the heart and determination to make it further and really push themselves to get where we want to be."