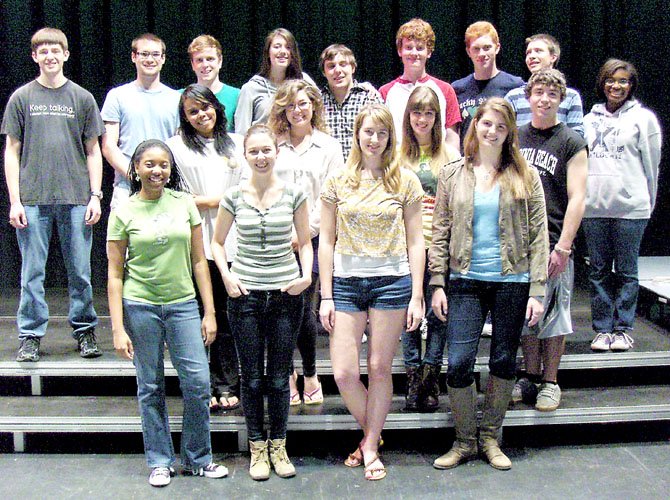 In Orange, N.Y., from 1924 to the late 1930s, the U.S. Radium Corp. employed hundreds of women to paint the faces of watches and clocks. At that time, radium was heralded as a miracle cure for many diseases — and it glowed in the dark.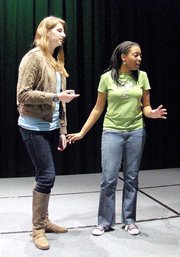 "But the workers were ingesting it because, after a few brush strokes, they re-pointed their brushes by putting them in their mouths," said Centreville High Theater Director Mike Hudson. "So they were exposed to massive amounts of deadly radiation and, over time, they got radium poisoning."
Some of the factory girls brought a lawsuit against the company, and it garnered major publicity in the press. The play, "Radium Girls," tells their story, and Centreville High is presenting it to local audiences over two weekends.
The curtain rises Friday-Saturday, April 20-21; and Thursday-Friday-Saturday, April 26, 27, 28, at 7:30 p.m. each night. Tickets are $10 at the door or via www.brownpapertickets.com/event/232709. Student tickets, April 26, with ID, are $5. It's recommended for sixth-graders through adults because of the serious subject matter.
"This play examines man's arrogance and ignorance of the world around them," said Hudson. "At first, the corporation didn't know the harm radium did. Later, it denied knowledge of and accountability for the situation and tried to cover it up and stall the lawsuit.
"But thanks to the 'Radium Girls' and their success in bringing attention to the deplorable conditions in U.S. factories, industrial safety standards here were significantly tightened — sparing countless other girls from similar fates. The extraordinary honesty achieved with this play will touch audiences. It's more than a story based on history — it's a genuine, theatrical gift."
There's a cast and crew of 27, and Hudson says rehearsals are going well. "The actors have really taken these parts personally, and that's helped them grow these characters," he said. "They'll wear 1930s-period costumes and makeup, and the multi-level set will show the factory interior and some of the workers' homes."
Hudson said the audience will enjoy some irreverent humor within the show's dark content, plus its fast pace. And, he added, "They should walk away with a more clear idea of their responsibility to their fellow man."
Senior Emily Dwornik plays watch-painter Grace Fryer, who goes from age 15 to her early 20s in the show. "She undergoes an incredible transformation, starting as an innocent girl who does what she's told," said Dwornik. "But as the radium poisoning progresses, she finds her voice and inner strength to finally stand up for herself. She's the perfect underdog."
Dwornik calls this part "the zenith of my career at Theatre Centreville — easily the most-demanding role I've ever had to play. There's so much historical context, and I'm trying to honestly portray someone who had such a horrible disease and was just squashed by this company."
She and the other actors all researched both that era and situation to better understand their characters. "The message is that, no matter how difficult the situation, it's important to stand up for yourself and the people you care about," she said. "I love this show — it's a great example of how you're never down and out."
Playing Diane Roeder, wife of the U.S. Radium Corp.'s president, is junior Binta Barry. Always concerned with her husband's welfare, "She's his equal in their relationship and has a say in his plans and actions," said Barry. "She's challenging because she's in her 40s and married and a lot goes into developing this character. But I enjoy the challenge; this play's about something that happened in real life and it showcases the talent in our Theater Department."
Barry also portrays Madame Curie, who discovered how radium could be used medically to prolong people's lives. "It's interesting playing a character people know by name," she said. "She was down to earth and passionate about her work, and that's something I can relate to easily."
Senior Kelly Strauch plays a reporter for a New York newspaper. "She over-sensationalizes all the stories about the Radium Girls and makes sure people get angry about and interested in them," said Strauch. "It's fun because she's omniscient, but also interacts with the characters. So she's involved with the storyline and moves it forward, at the same time."
Strauch also plays Grace's mother. "She cares about her daughter, but Grace's drive to be in court and carry out the case is hard for her financially and emotionally," said Strauch. "She sees her daughter going up against injustice; and even though she believes Grace is right, she doesn't think she can win."
Since the story's told via vignettes, said Strauch, "The audience gets to see it from different sides. And that mirrors the court case showing evidence from both points of view."
Portraying the corporation president, Arthur Roeder, is junior Daniel Lindgren. "He's 34 for most of the play and ages to 65 at the end," said Lindgren. "He's well-meaning, but has been put into a rough situation. He's been given conflicting information on the effects of radiation. He honestly believes it's OK because his plant supplies radium to put into drinking water because people believed it had invigorating properties."
By the time Roeder realizes it's harmful, it's too late. "So he's really a complicated character," said Lindgren. "Even when he does know, his board of directors, stockholders and lawyers tell him to just stay the path to keep the company in business, so he's conflicted. It's challenging playing this role, but exciting to get into all his motives to understand him. He's trying to be a good guy, but doesn't know what's best to do, so it's fun and a change for me to play such an ambiguous character."
Lindgren said the play's special effects and staging choices will add an eerie tone to the show. "The audience will like the story because it's very powerful," he said. "They'll really feel for the characters and their plight will