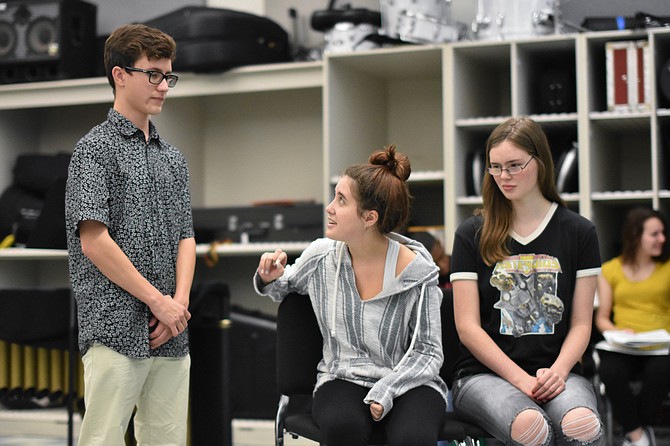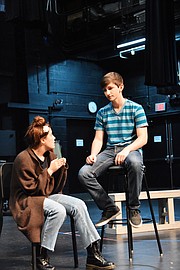 With a cast of 18 students, Bishop Ireton High School will be presenting "Radium Girls," a story by D.W. Gregory about female factory workers in the 1920s who contract radiation poisoning from painting watch dials. Inspired by a true story, the play traces the efforts of Grace Fryer, a dial painter, as she fights for her day in court. Her adversary is her former employer, Arthur Roeder, an idealistic man who cannot bring himself to believe that the same element that shrinks tumors could have anything to do with his employees' illnesses. The show runs from Nov. 8-10.
"It's based on a true story of the girls in the 1920s who painted the luminescent watch dials," said Director Joanna Henry. "They painted it with paint to make it glow. And in order to get the fine points on the paint brushes, they were encouraged to put it in their mouths – and, as a result they were ingesting radium and they started getting ill and many of them died."
Henry, who has been at Bishop Ireton for 18 years, said the show uses a cinematic style that flows from one scene to the next, and they added projections to the walls to help tell the story.
She added: "It pretty much focuses on one dial painter, Grace Fryer, and it's her fight to get what the women deserved. They wanted the company to take some responsibility. It does have a social justice aspect to it… I believe these particular cases are what caused worker's compensation and working conditions to improve."
Andrew Holland, 18, a senior from Arlington is playing the role of Arthur Roeder. "He's the president of the company in the beginning of the show. He is very human in that he cares for the girls, but he also cares for the company and has a duty to keep the company's name clean. So, during the show he always struggles between these two extremes."
He added: "I hope the (audience) understands the historical significance of it. A lot of people don't know the story and what actually happened, and I hope they understand the context of women's rights in the show. I hope they are emotionally impacted in a way that they want to apply activism in their own lives because in the show the girls don't have a lot of people speak for them."
Lyndsey Lawrence, 17, a senior from Alexandria is playing the role of Grace Fryer. "Grace is a character who changes a lot. She starts the show at age 15 and quit school to work at the U.S. Radium Corporation, and she gets sick because of the method they had of painting the dials. She was instrumental in getting the company to compensate them for their suffering and making sure people know of the dangers of radium."
She said the challenge was how Grace changes from the beginning to the end. "She starts out young, innocent and naïve; and how she gets sick and how that illness affects her and showing strength — even through the illness," she said.
Abbi Abraham, 17, a senior from Alexandria is playing the role of Kathryn Schaub. "Kathryn is one of Grace's friend and begins the play as an enigmatic, funny and energetic girl. As the play progresses, she has a drastic transition because of the illness and as she begins to deteriorate, she begins to lose a part of her sanity. It's a very drastic character arc for her," she said.
"I hope the audience takes away from my performance what strong women can achieve when there's an issue at hand, women have the ability to solve anything, and especially in this day and age, we see many women in media and this shows that strong women have always existed but not received the recognition they truly deserved," she added.
Libby York, 17, a senior from Alexandria is playing multiple roles: Macneil, a clerk, a customer, and board member #2. "All of my characters have a limited stage time and it could be hard to figure out what character traits each of them has. So, trying to get them all a separate story that you can portray in the small amount of time you have on stage can be difficult. And trying to differentiate your characters as much as you can, to try to make sure the audience gets as much out of the experience as possible can also be a struggle," she said.
Bishop Ireton High School will be presenting "Radium Girls" from Nov. 8-10. Performances will be Nov. 8 and 9 at 7:30 p.m. and Nov. 10 at 2 p.m. and 7:30 p.m. Tickets are $10/adults; $8/students/seniors. The venue is located at 201 Cambridge Road, Alexandria. Visit www.bishopireton.org.