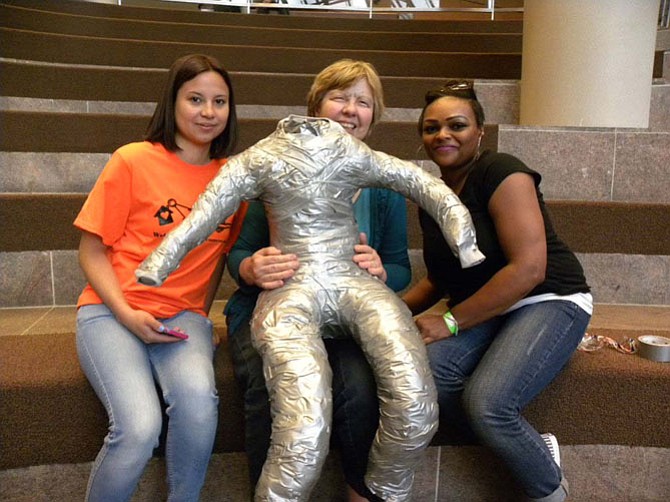 Volunteers and representative from Fairfax County's Office to Prevent and End Homelessness (OPEH) assembled mannequins representing homeless men, women, children, families and veterans on Friday, April 17 at the Fairfax Government Center.
"We're doing 30 of them and they will represent all the various faces of homeless in Fairfax County," said Glynda Mayo Hall of OPEH.
The mannequins are made of duct tape, newspaper stuffing and old clothes. To create them, clothes are wrapped in duct tape and stuffed with newspapers. The process is repeated several times for each mannequin to make them sturdier and able to be propped up.
"We're hoping to really educate people who don't even realize that there are homeless and homeless veterans in our community," said Dean Klein, director of OPEH.
Board of Supervisors Chairman Sharon Bulova, who attended the assembly event, nominated OPEH for the Mayors Challenge, a call announced by First Lady Michelle Obama to all the mayors in the United States to end veteran homelessness in their communities in 2015.
"This activity is really going to help us end veterans' homelessness in our community. It's going to allow us to better secure housing resources that will allow people who have previously served in our armed forces to really make sure that they have housing in our community," said Klein.
The mannequins will be placed all over Fairfax County communities on April 28. They will be tagged and people can find out their locations, or learn more about the campaign, by visiting http://wecanendhomelessness.org/.