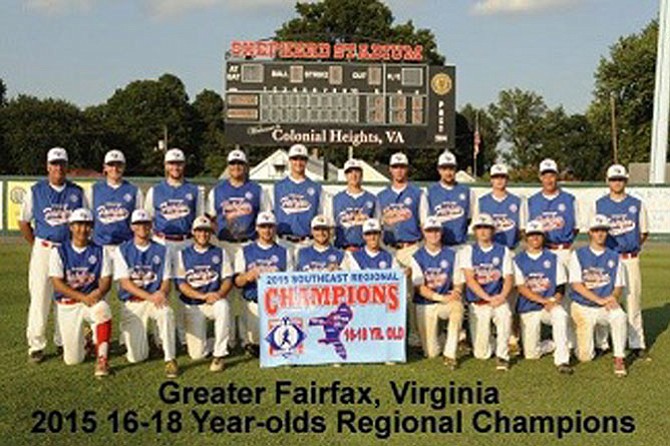 After losing 4-1 to Lumber River in the third game of the double-elimination Southeast Regional tournament, the SYA Greater Fairfax Senior Babe Ruth baseball team knew they had to fight back in order to avoid being sent home by a second loss.
"In regionals, we knew the best competition we would face would be Northern Fairfax and Lumber River. On the third day we faced Lumber River . . . We ended up losing and made a bunch of errors," Centreville graduate and pitcher/second baseman Nate Nguyen said. "Our coach kept reminding us that the only team that could beat us was ourselves . . . The next day we had to play Northern Fairfax in an elimination game."
With a home run from Roanoke College pitcher/first baseman Joe Larimer, Greater Fairfax went on to beat Northern Fairfax 2-1, bringing them to once again face Lumber River in a win-or-go-home game.
Larimer got the start on the mound, and hit a 3­run home run to help lift the team to a 5-4 win, allowing them to advance to the championship game against Lumber River. After jumping to an early lead, Greater Fairfax won 5-2, earning a berth to the 2015 Babe Ruth League World Series in Klamath Falls, Ore.
"This is the first SYA team in recent memory that has advanced to a World Series," coach Brian Seeley said.
The SYA 13-15 year-old tournament team nearly advanced to their age group's World Series as well, but fell just short, losing in the Southeast Regional final to Florida 2-0 on Saturday.
With games starting Aug. 8, the SYA Greater Fairfax Senior Babe Ruth team will compete in four pool play games, with the top three teams in the pool advancing to a single-elimination tournament.
"The team will continue to focus on the fundamentals and our approach will be the same. One game at a time," Seeley said.
Pitcher/outfielder Matthew Blaise is one of several team members for whom this will be their first trip to the West Coast.
"I love traveling. It will be fun!" Blaise said. "[The teams on the West Coast] will be competitive but we won't really know [what to expect] until we get there."
For many of the players, though the trip will be full of "firsts," it is also a significant "last."
"A bunch of [my teammates] were on my All­Star and travel teams [through Little League]," Nguyen said. "With us going off to different colleges, this would be the last time we would get to play on the same team . . . I am excited and a little anxious to play on a big stage like the World Series."
ESPN 93.3 FM will provide complete radio coverage of the Babe Ruth World Series from Aug. 8-15.
"It means a lot to be on a team that is really special. We are all really excited for the opportunity to play and represent Virginia," Nguyen said. "We know the competition will be tough and more experienced, but we believe in our abilities and hope to bring a championship to Virginia."