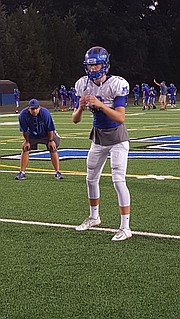 The 2014 season was yet another year of transition for the West Potomac football program.
First-year head coach Jeremiah Ross was the team's third coach in four years and the Wolverines had to learn a fourth different offense in as many seasons. The quarterback position was unsettled, with two players rotating during the season, and West Potomac finished the campaign with a 4-6 record, including a 1-5 mark against Conference 7 opponents.
Nine months later, Ross is back for a second season as head coach and the Wolverines are hoping familiarity will lead to an increase in victories.
"Just kids knowing what they're doing," Ross said when asked about the differences between a coach's second season with a program and his first. "[It is the] second year in a row of guys running the same offense. We've tweaked our defense, but overall, same stuff. The consistency of everything, I think, is the biggest part."
Rising junior Mark Ellis was one of the quarterbacks who saw playing time last year. While he wasn't able to settle into a comfort zone, he completed 52 percent of his passes for 990 yards and nine touchdowns in seven games, earning second-team All-Conference 7 honors. This year, the 6-foot-4 left-hander enters the season as the unquestioned starter and said he has a better grasp on the Wolverines' no-huddle spread offense.
"I would start a game, then they would have [then-senior] Preston [Jones] start a game, so you couldn't really get it down," Ellis said. "But now that I'm getting all first-team reps, we're really repping stuff out and hopefully come scrimmage time, come game time, it will be really clean."
Ross said he expects Ellis to run the offense more efficiently and make sound decisions. The coach also said Ellis has the tools to play college football.
"I expect him to have a great season," Ross said, "[and to] lead our team, lead our offense ..."
Ellis' top returning target is rising senior CJ Burch, a first-team all-conference selection at receiver last season. Burch (6-2, 4.4-second 40) hauled in 42 receptions for 729 yards and six touchdowns as a junior and figures to once again be a difference maker.
"He's pretty special," Ross said.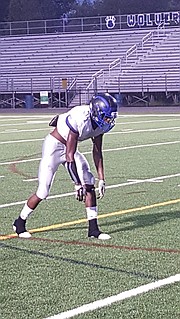 Burch said he prefers to play with one quarterback, rather than a rotation.
"I kind of like [having] one quarterback," Burch said. "When they're switching back and forth, a certain quarterback throws a certain way, and another throws a certain way. Mark gets it there."
Rising sophomore Daiimon Cleveland will see carries at running back. Rising senior Grant Monson will be a pass-catching threat at tight end.
Ross, a former three-year starter at right tackle for Fresno State University, said eight players could see time on the offensive line. Rising senior tackles Tay Diggs and Jordan Burgess are the leaders of the group.
"They've just been great throughout the whole offseason," Ross said. "They're there all the time, smiles on their faces, working hard, doing a great job."
On defense, West Potomac makes the move from a 4-3 to a 3-4. Rising senior Horace Johnson was a second-team all-conference selection at defensive end last season, but moved to outside linebacker this season with the switch from an even to an odd front.
"I really feel like, at that backer position, we're utilizing everything that he can do well," Ross said, "whether it's rushing the passer, putting pressure on a run or getting out in the flat in the passing game, whatever it may be ...."
Johnson said he likes the move.
"I'm really enjoying the 3-4 and [being] an outside linebacker," Johnson said. "It's more of a hybrid [position]. I felt kind of limited on the D­line. It helps me help my team more, rather than just standing on the line and rushing the quarterback and doing what I'm limited to."
Ross said Johnson, rising senior linebacker Kreshawn Dikes and rising senior defensive back Okrah Opoku are the leaders of the defense.
Diggs and Burgess are the defensive ends.
West Potomac will host a scrimmage against Lee at 6 p.m. on Aug. 21 and will travel to Robinson for a scrimmage on Aug. 27. The Wolverines will open the regular season with a road game against Langley at 7 p.m. on Thursday, Sept. 3. West Potomac's first home game is Sept. 11 against Edison.
The Wolverines host rival Mount Vernon on Nov. 6.