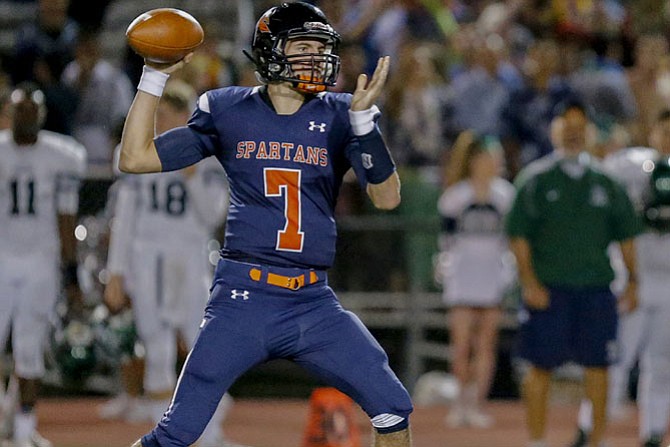 Through five games, it appears four teams ­­­ Lake Braddock, South County, West Springfield and West Potomac ­­­ have a legitimate shot at winning the Conference 7 championship.
On Sept. 25, South County edged West Springfield 42-40, and Lake Braddock held off West Potomac 24-21, leaving the Spartans and Wolverines a small margin of error when it comes to competing for the conference title. This week, West Springfield will travel to face West Potomac at 7 p.m. on Friday, Oct. 9 in a contest that could eliminate one of the two from conference championship contention.
After winning its first three games, West Springfield's loss to South County dropped its conference record to 1-1. Last week, the Spartans were blown out at home by Stone Bridge in a non-conference matchup, 41-10, dropping their overall record to 3-2.
The Stone Bridge game was originally scheduled for Friday, Oct. 2, but was moved to Oct. 1 due to potential inclement weather. Eldredge said the scheduling change affected his players, and Stone Bridge's physical running game was too much for the Spartans to overcome.
Now, West Springfield, which shared the conference title with Lake Braddock and South County last season, needs to find a way to bounce back against West Potomac on Friday.
"Right now, it honestly means everything to our season," West Springfield head coach Jason Eldredge said. "If we lose, we can obviously still recover, have a good season ... but I think for us, we came in with high expectations as a group and unfortunately, we've been battling a lot of issues. We're really been decimated with injuries and we're not very deep.
"... We need this win to get our confidence back. I think our guys' confidence is a little shaken from [the] Stone Bridge [game]."
West Springfield quarterback Peter Muskett has been slowed by an ankle injury he suffered against Mount Vernon on Sept. 11. When healthy, Muskett is a dual threat, but the junior has not been able to run effectively in recent weeks. Eldredge said Muskett is not 100 percent, but is much improved entering Friday's game, which could give the Spartans more options on offense.
Muskett completed 13 of 25 passes for 192 yards and a touchdown against Stone Bridge. For the season, he has completed 58 percent of his passes for 1,136 yards and 14 touchdowns, with one interception.
When he was healthy in the season opener against Robinson, Muskett carried 19 times for 139 yards and a touchdown.
"Offensively, obviously they've got some good skill players," West Potomac head coach Jeremiah Ross said. "It starts with the quarterback ..."
Eldredge said receiver Darean Robertson has played well of late. He has 25 receptions for 536 yards and five touchdowns this season, including seven catches for 142 yards and a score against Stone Bridge.
"He's a game breaker," Eldredge said. "He's kept us in games this entire year."
Defensively, Eldredge said West Springfield is focused on stopping West Potomac receiver CJ Burch.
"The guy who wears No. 1 at receiver ... he is a danger any time he touches the ball," Eldredge said. "It's not just his speed. He's got a stature about him. You can have him guarded and he's still going to make a play."
Burch caught four passes for 152 yards and a touchdown during last week's 45-26 win over Woodson, which improved West Potomac's record to 4-1, including 1-1 in the conference. Burch has 30 catches for 651 yards and four touchdowns in five games.
"If you're going to play him 1 on 1," Ross said, "chances are you're going to get beat."
Ross said when opponents put more than one defender on Burch, it opens things up for the Wolverines' other offensive weapons. Khalil Williams Diggins had four catches for 145 yards and two touchdowns against Woodson, and Brandan Lisenby has 15 receptions for 253 yards and two scores this season.
Running backs Justine Annan and Daiimon Cleveland each scored two touchdowns against Woodson.
The player in charge of getting the ball to West Potomac's playmakers is quarterback Mark Ellis, who completed 14 of 23 passes for 379 yards, with three touchdowns and one interception against Woodson. For the season, Ellis is completing 57 percent of his passes for 1,383 yards and 14 touchdowns, with two interceptions.
Ellis said the narrow loss to Lake Braddock, a game West Potomac led at halftime and had a chance to win in the fourth quarter, left the Wolverines feeling confident.
"We definitely think we can play with teams like that," he said. "We've got a chip on our shoulder. ... We think we could have won, we think we blew it ourselves."
Ross said he was pleased with how the Wolverines played against Woodson. Now, West Potomac faces its next big test of the season.
"To take that next step in our program, we've got to win games like this," Ross said. "... It's a big game for both programs, sitting at 1-1 in the conference."