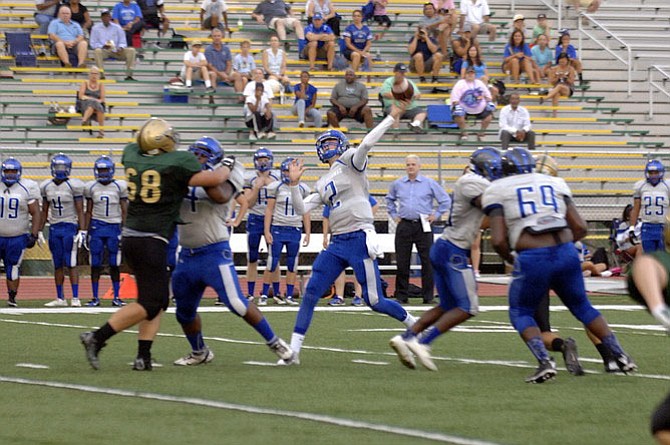 The West Potomac football team survived against Briar Woods last week, when Okrah Opoku blocked a field goal in the final minute to give the Wolverines a 29-27 victory.
Now 3-0 for the first time since 2012, West Potomac will open conference play against fellow undefeated Lake Braddock at 7 p.m. on Friday, Sept. 25. The Bruins have won at least a share of the Conference 7/Patriot District title for the last six seasons.
How big is this game for the Wolverines? Depends on who is asked.
"I would definitely say it's the biggest game [of my career]," said CJ Burch, a standout senior receiver in his third season playing for the West Potomac varsity. "Two 3-0 teams going head to head is pretty [exciting]. I'm excited for it."
Then there's head coach Jeremiah Ross, who is in his second season with West Potomac: "The thing that I continue to preach to these guys ... is it's 1-0 each week. No one game is bigger than another."
No matter the stated public approach to Friday's game, the Bruins, ranked No. 4 in the Washington Post's top 20, will provide the Wolverines an opportunity to show just how good they really are. West Potomac has defeated Langley, Edison and Briar Woods this season, three teams with a combined record of 1-9.
The Wolverines are averaging 45 points per game, including a season-high 66 against Edison. Junior quarterback Mark Ellis is completing 60 percent of his passes for 723 yards, with nine touchdowns and one interception. His top target, Burch, has 20 receptions for 353 yards and two touchdowns.
On Friday, the duo will face a tough task going against the Lake Braddock secondary, which includes standouts Peyton Scott and Ibrahim Mansaray.
"I've just got to stay focused, get my job done because I know they're going to try to get me the ball," Burch said. "... I believe that we can put up numbers on [the Bruins]."
The Robinson Rams were able to find success through the air against Lake Braddock during the fourth quarter last week, but Rams head coach Scott Vossler praised the Bruins secondary after the game.
"Quite honestly, I think [Lake Braddock's] secondary is pretty good and I think they might have got lulled to sleep a little bit just by not having to cover a whole lot throughout the game," said Vossler, whose run-oriented offense passed for 109 yards and two touchdowns in the fourth quarter. "I've seen those guys on film, and I think we might have got lucky a little bit tonight there at the end doing that stuff."
Ross said West Potomac's ability to protect Ellis will determine how well the Wolverines are able to throw the ball against the Bruins.
"If we give Mark time," Ross said, "... I think we can be pretty good."
While the passing game has been a big part of West Potomac's no-huddle spread offense, Ross said he was pleased with the way the Wolverines ran the ball against Briar Woods last week. West Potomac's running back duo of Justine Annan and Daiimon Cleveland combined for 256 yards. Annan, a junior, carried 25 times for 134 yards and a touchdown. Cleveland, a sophomore, rushed 14 times for 122 yards and a score.
Lake Braddock has outscored its opponents 130-14. After blowing out Lee and Annandale (teams with a combined record of 1-5) by the combined score of 109-0, Lake Braddock built a 21-0 halftime lead against rival Robinson, but wasn't able to pull away, eventually winning 21-14.
Bruins quarterback Kyle Edwards is a threat to run or pass. Lamont Atkins is Lake Braddock's top running back.
The last time West Potomac started 3-0, the Wolverines hosted Lake Braddock in their fourth game. The Bruins, who entered that 2012 contest with a 1-2 record, beat the Wolverines 37-23.
"We just really want to beat them," Burch said.