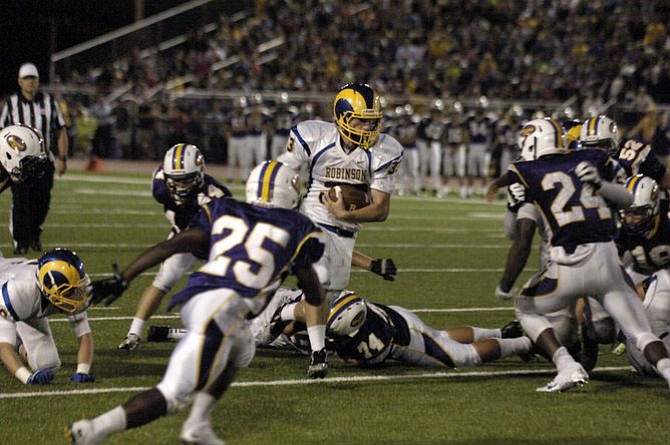 Injuries and the rigors of a Conference 5 schedule derailed a promising start to Scott Vossler's head-coaching career.
Vossler became the Robinson football program's third head coach in as many years and fourth in five seasons in 2014. He led the Rams to six straight victories to open the campaign, including a 19-17 win over rival Lake Braddock on the Bruins' home field. But as schedule difficulty increased and injuries took a toll, the Rams closed the regular season with a four-game losing streak before ending the year with a 50-23 loss to South County in the opening round of the 6A North region playoffs.
Nine months later, Vossler is back as Robinson head coach ­­­ the first time since 2012 a Rams head coach returned for a second season.
"Coach Vossler is just a great coach to be around," rising senior running back Dajon Lee said. "[He] coaches well; [he] takes care of us [and] that's why I like him even better. It was a great transition [when he was hired]. They picked a great head coach."
Vossler said he learned from his inaugural season as Robinson head coach. And thanks in part to a trio of big, sturdy running backs, he is hopeful the Rams will be the ones dishing out physical punishment in 2015, rather than succumbing to it.
Rising seniors Lee (6 feet 2, 220 pounds) and Sean Foncha (5-11, 205) and rising junior Roman Lowery (6-0, 205) have the size and ability to accumulate rushing yards while wearing down a defense. Lee and Lowery are halfbacks in Robinson's wing-T offense and Foncha is a fullback.
"They're all big, strong boys and they're not slow," Vossler said. "We really think that's going to be an asset for us. We think we can run them at people and hopefully this year we can put some damage on the defense instead of our backs getting dinged up. We think that's the strength of our offense. We feel good about our offensive line, but with those three horses in the backfield, we feel like we should be able to go toe-to-toe with people."
Helping set a physical tone are returning offensive linemen Nick Bernacchi (6-3, 265), Lars Stevenson (6-1, 200) and Mason Velasquez (6-2, 225). Bernacchi, a rising junior, is the Rams' right tackle. Stevenson, a rising senior, is the left guard. Velasquez, a rising senior, has moved to tight end.
Rising senior Wes Richmond (6-1, 185) is a pass-catching tight end.
Rising junior quarterback Alex Miller (6-0, 185), who started Robinson's final five games last season, is the likely starter this year. Rising junior Matt Oakley (6-0, 185), a starter in the secondary, could also see time at quarterback.
On defense, the Rams will run a base 3-4 scheme. Donnie Warter (5-11, 185) is Robinson's top returning linebacker. The rising junior makes the move from outside backer to inside.
"Warter's been fantastic throughout the summer and early in camp," Vossler said. "He was a great player for us last year as a sophomore. ... He's making plays all over the field."
Warter said he feels more confident on the field.
"Last year, I was a little unsure about myself," he said, "so this year I have more confidence and more knowledge about the varsity level."
Rising senior defensive end Ieuan Israel (6-1, 220) figures to be a difference-maker on the line.
Former Centreville assistant Adam Neff takes over as Robinson's defensive coordinator.
Robinson faces a daunting 2015 schedule that includes eight opponents that qualified for the 2014 postseason, seven of which won at least one playoff game. The Rams will open on the road against West Springfield at 7 p.m. on Friday, Sept. 4. Robinson's first home game is Sept. 11 against Woodson.
"We feel like we're several weeks ahead of where we were at this time last year," Vossler said, "just because It's our second year going through and we just think we're a lot better at it."