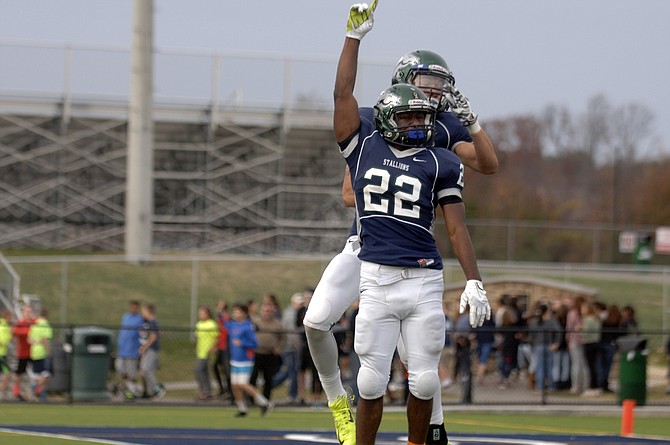 With the first half coming to a close and Robinson fighting to avoid another failed red zone trip, the South County defense stuffed Rams running back Sean Foncha at the line of scrimmage on fourth-and-one, preserving the Stallions' four-point lead.
When the run-oriented Robinson offense tried to make a play through the air, defensive back Kofi Bell was there for South County, intercepting a pass in the fourth quarter and returning it 55 yards for a touchdown, giving the Stallions a double-digit advantage.
And when the Stallions had to fend off one final push from the resilient Rams, senior linebacker Kevin Allen sacked Robinson quarterback Alex Miller on fourth down, ending the Rams' comeback hopes.
South County is known for its up-tempo offense and entered the 6A North region semifinals averaging more than 40 points per game. On Saturday afternoon, however, it was the defense that excelled during a 20-15 victory over Robinson at South County High School that earned the Stallions a berth in the region championship game.
South County, the top seed in the region, improved to 13-0 and will host No. 3 seed Westfield (12-1) at 2 p.m. on Saturday, Nov. 5.
Robinson, the No. 5 seed, entered Saturday's contest hoping to neutralize South County's potent offense, in part, by keeping it off the field with its own time-consuming drives. The Rams' wing-T offense rushed for 267 yards and had the ball in South County territory during eight of its 12 possessions, but South County came up with stops when it mattered most.
"We talked … all week that all the talk was that [the Rams] were the more physical team and they were going to be able to pound us and we had no answer for it, so I think our kids took it as a challenge," South County head coach Gerry Pannoni said. "They're definitely bigger than us --- everybody we've played has been bigger than us, though, so I don't know what that means at this point."
Trailing 20-15, Robinson started its final possession at its own 31-yard line with 2:09 remaining. Four plays later, including a one-handed 18-yard reception by Da'Jon Lee on third-and-eight, the Rams had a first down at the South County 35.
Two plays later, four Stallions, including Bell and Allen, pressured Miller into a 10-yard loss. On fourth-and-19 from the 44, Allen sacked Miller, ending Robinson's season.
"He's an explosive player," Pannoni said about Allen, the Conference 7 Defensive Player of the Year. "He's a kid that's going to make those explosive plays when you need them."
South County took a 13-3 lead when quarterback DeAndre Clayton connected with Nathanial Avery for a 44-yard touchdown with 6:17 remaining in the third quarter. Robinson responded quickly, however, cutting the Stallions' lead to 13-9 on a 1-yard sneak by Miller with 3:53 left in the third. Robinson's five-play, 57-yard scoring drive started with a 50-yard run by Foncha.
With 9:41 remaining in the fourth quarter, Robinson started a drive at midfield with a chance to take the lead. But after two run plays netted a loss of three yards, the Rams were forced to go to the air and South County's Bell took advantage, intercepting Miller's pass and returning it 55 yards for a score.
"I'd been waiting for it all game," Bell said. "The whole game, I saw it coming. You see the film: they only run three different pass plays, so I knew one of them had to come to me eventually. I saw my man, baited the quarterback, made him think he was open, so I sat, broke on the ball and that was it. … I knew exactly where he was going to go with it --- a very predictable offense. A good team, though."
Bell's pick-six proved vital for South County as Robinson scored less than a minute later, when Foncha scampered 40 yards for a touchdown with 7:34 remaining, cutting the Stallions' lead to 20-15.
Foncha carried 18 times for 139 yards and a touchdown. Lee had 94 yards on 14 carries, and Roman Lowery rushed 13 times for 37 yards.
While Robinson moved the ball on the ground, the Rams failed to capitalize on multiple scoring opportunities in the first half. Robinson had the ball inside the South County 20-yard line three times in the first half and came away with just three points.
"We knew all year that they were a grind-it-out team," Allen said. "They just like to bully people, so we knew they were going to come out [and] try to do the same thing to us. We came out, it's on our field, we didn't want to be disrespected … and we just beat them at their own game."
South County opened the game with a 13-play, 64-yard drive that took 4 minutes, 9 seconds off the clock ended with a 1-yard DeMarcus Ramsey touchdown run and a 7-0 Stallions lead. Robinson countered with a 12-play, 64-yard drive that chewed up 5:43, but the Rams had to settle for a 30-yard Nathan Musso field goal, cutting the South County lead to 7-3. Robinson had a first down at the South County 17-yard line, but netted four yards on its next three run plays.
Robinson started a drive at its own 15 with 8:13 remaining in the second quarter and a 53-yard run by Lee on first down quickly put the Rams in South County territory. Robinson reached the South County 13, but a penalty against the Rams led to fourth-and-11 at the 21. Robinson lined up for a 38-yard field goal attempt but ran a fake instead, with Miller, the holder, throwing a pass. The pass fell incomplete, and South County took over on downs, still leading 7-3.
Robinson recovered a South County fumble and returned it to the Stallions 20-yard line with 44 seconds remaining in the first half. After a 7-yard run by Lee on first down, Foncha was stuffed for no gain on second down and Lee picked up 2 yards on third down, setting up fourth-and-one at the 11. South County stuffed Foncha for no gain and the Stallions went into halftime with a four-point lead.
"I think the game kind of boiled down to [a] couple times we got down here and we didn't get any points," Robinson head coach Scott Vossler said. "I think that was kind of the story of it. They're a good program. I think we don't have anything to be ashamed about. I think we gave them our best shot. We just didn't get it done down here in the red zone. I think that was the difference in the game."
South County's Clayton completed 10 of 16 passes for 103 yards and a touchdown. Michael Williams carried six times for 37 yards, Ramsey ran for 36 yards and a score on 14 carries, and Miles Lucas had six rushes for 34 yards.
Avery had three receptions for 47 yards and a touchdown, and Dillon Spalding caught four passes for 42 yards.
The Robinson defense limited South County to two offensive touchdowns.
"The defense played great," Vossler said. "That's all we can ask for. They're averaging [44] points a game and you give up 13 on defense, you'll take that every time."
Robinson finished the season with a 9-4 record and advanced to the third round of the playoffs for the first time since 2004, according to vhsl-reference.com. The Rams' four losses were by a combined 22 points and came against the top three seeds in the 6A North region (South County, Lake Braddock, Westfield) and the No. 8 seed (West Springfield).
"The big thing last offseason for us was we just wanted to get tougher and I feel like if you ask most of the people we play, I think they felt like we were a tougher football team this year than we were in the past," said Vossler, who is in his second season as Robinson head coach. "We're going to keep moving in that direction and keep working on that because I think in high school football, the team that wins at the line of scrimmage wins most games, so that's going to be our M.O. going forward."
South County moves on to face Westfield in the region championship game. The two teams met during the regular season on Sept. 11, with the Stallions winning 26-19 at Westfield High School.
"It's going to be a great game, especially because they've got some of their players back that they think were going to be the difference-makers the first time we played them," Bell said. "We want to see them --- two healthy teams going at it, and we want a good game to get to the state championship [and] take on Oscar Smith."
The winner of Saturday's South County-Westfield matchup will face the winner of the 6A South championship game between undefeated Oscar Smith (12-0) and Thomas Dale (9-4) in the state final on Dec. 12 at Scott Stadium in Charlottesville.