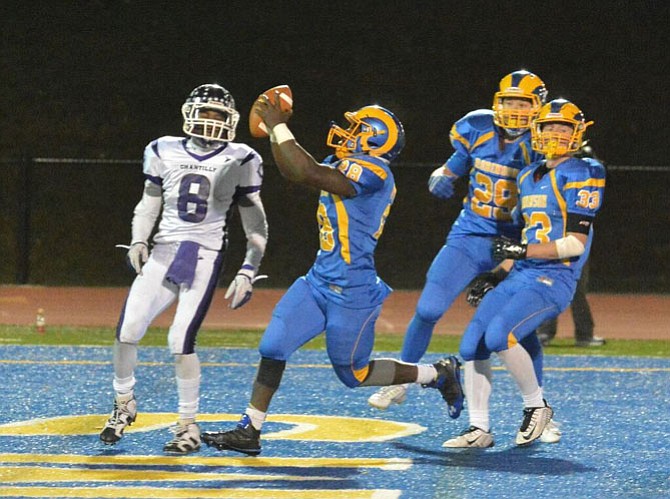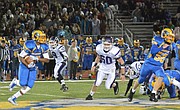 The Robinson Rams on Saturday afternoon will try to clear their third hurdle in a challenging 2015 postseason.
After closing the regular season with a win over Centreville, No. 5 seed Robinson had to face the No. 12 Wildcats in a playoff rematch the following week. The Rams trailed by a touchdown in the fourth quarter, but came back to win 24-21 on a field goal by Nathan Musso with 3 seconds remaining.
On Nov. 20, Robinson needed a 27-yard touchdown pass from Alex Miller to Wes Richmond with 7 seconds remaining to beat No. 13 Chantilly 31-24 in the quarterfinals.
Now, the Rams (9-3) will travel to face undefeated top seed South County (12-0) in the 6A North region semifinals at 1:30 p.m. on Saturday, Nov. 28.
It's the first time since 2004 that Robinson has reached the third round of the playoffs. That year, the Rams lost to Landstown in the AAA Division 6 state championship game.
Led by quarterback DeAndre Clayton and running back DeMarcus Ramsey, South County features an up-tempo offense that puts pressure on opposing defenses both through the air and on the ground. The Stallions are averaging 43.5 points per contest and have scored 33 or more points in 11 of 12 games. South County defeated West Potomac 42-9 in the quarterfinals on Friday.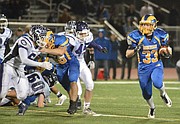 How can Robinson slow down South County? From a defensive standpoint, Rams head coach Scott Vossler said it's about getting stops on third and fourth downs.
"You've got to try to get off the field when you get opportunities," Vossler said. "When you get them in third-and-long and fourth-and-long and have a chance to get off the field, you've got to cash those in."
On offense, Robinson's ground-oriented wing-T attack can help the Rams' cause by chewing up clock and keeping the South County offense off the
"To be able to beat SoCo, we have to play physical, fast, and try to limit penalties," Robinson running back Sean Foncha wrote in an email. "It will be very important that we have longer possessions on offense to get our defense time to rest."
Foncha and fellow Robinson running backs Da'Jon Lee and Roman Lowery have come up big in the postseason.
Against Chantilly, Foncha carried 18 times for 157 yards and three touchdowns. Trailing 14-0, Foncha scored on an 80-yard run with 5:49 remaining in the second quarter.
"When I scored that 80-yard touchdown, I felt like it gave our team life and confidence," Foncha wrote. "We knew we still had a chance to win."
Lee carried 14 times for 100 yards against Chantilly, and Lowery had 12 carries for 42 yards.
Each of the three running backs scored a touchdown in the playoff opener against Centreville, and Foncha led the way with 107 yards.
The winner of Saturday's South County-Robinson game will face the winner of No. 2 Lake Braddock and No. 3 Westfield in the region championship game.