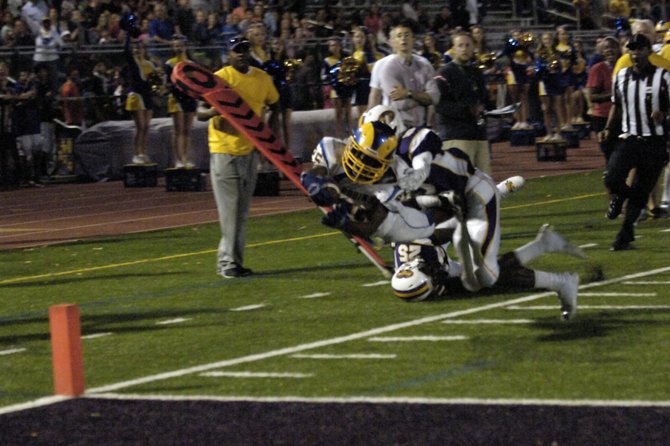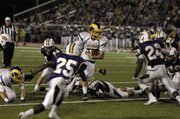 First-year Robinson football coach Scott Vossler had a message for the Rams entering Friday's rivalry contest against Lake Braddock: It's time to beat an upper-echelon opponent.
Vossler, Robinson's fourth head coach in five seasons, has his sights set on returning the once-powerful Rams to prominence, and that includes knocking off the region's elite. Robinson started the year with victories against Lee and Woodson, programs which combined for a 5-16 record in 2013. The Rams won eight games and reached the second round of the playoffs last season when Vossler was the team's defensive coordinator, but Robinson went a combined 0-4 against Lake Braddock (12-1, reached the region final four), Westfield (region runner-up) and Centreville (state champion).
"We challenged them the other day about beating a contender," Vossler said. "The seniors really hadn't done it yet. I've been here for three, four years and every time we played one of the powerhouses, we've lost."
Friday's game started as a matchup of 2-0 teams. It ended with Vossler motioning from the sideline for Robinson fans to increase the decibel level of their celebration.
Robinson defeated Lake Braddock 19-17 at Lake Braddock Secondary School in Burke. The Rams built a 19-0 lead with a bruising running game and strong defense before surviving a late Bruin rally.
Trailing 19-11, Lake Braddock quarterback Kyle Edwards threw to a wide-open Evan Eschenburg for a 21-yard touchdown with 1:08 remaining in the fourth quarter. The Bruins' two-point conversion attempt failed, and Robinson recovered the ensuing onside kick attempt to secure the victory.
"We've got kids that haven't won big in a while and they want it real bad," Vossler said. "… We had an opportunity here and we went at it with everything we had."
It was Robinson's first victory over Lake Braddock since 2011.
The Ram offense succeeded in traditional Robinson style --- lining up in the wing-T and pounding out yards on the ground. Running backs Marcus Denham, Sean Foncha, Roman Lowery and Dajon Lee combined for 51 carries, 252 yards and three touchdowns.
"I thought we ran it well," Vossler said. "… [The Bruins] were loading up [the box]. We probably could have thrown it once or twice but that's not who we are. We think when people put 11 in there, we've also got 11 in there and our 11 are better than theirs."
Denham, a 5-foot-10, 160-pound senior, led the Robinson ground game with 20 carries for 108 yards and a touchdown. He scored on a 26-yard run with 1:39 remaining in the second quarter, diving into the end zone to give the Rams a 13-0 advantage.
"Our mentality is Coach Vossler wants to bring back the Rams' tradition of being a tough-nosed, physical, run-the-ball-down-your-throat team," Denham said, "and we're going to continue to do that until otherwise shown that we have to change."
Foncha, a 5-foot-10, 195-pound junior, carried 13 times for 67 yards. Lowery, a 5-foot-11, 185-pound sophomore, rushed 14 times for 62 yards and a score. Lowery's 5-yard touchdown run gave the Rams a 7-0 lead with 10:35 left in the second quarter.
Lee, a 6-foot-1, 195-pound junior, had four carries for 15 yards and a touchdown. His 3-yard scoring run gave the Rams their largest lead of the night at 19-0 with 1:09 left in the third quarter.
Senior quarterback Jack Rowlett, a three-year starter, completed his only pass attempt for 22 yards to senior Davante Hicks.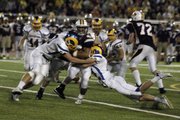 The Robinson defense limited Lake Braddock to just two first downs in the opening half, including one resulting from a pass interference penalty. The Rams forced a turnover on downs at their own 36 late in the first quarter, and Hicks intercepted Edwards at the Robinson 22 late in the second quarter.
"We thought our guys were pretty good against [the] spread," Vossler said. "We're pretty athletic, we're a little smaller, we think we match up well against that. Our D-line gets after it. Our kids just played with great effort, and when you do that, you cover up mistakes."
Robinson kept Lake Braddock off the scoreboard until the final minute of the third quarter. Facing second-and-10 at the Lake Braddock 45-yard line, Edwards completed a deep pass to Eschenburg, who fumbled into the end zone. A Lake Braddock player recovered the loose ball for a touchdown. A two-point conversion cut the Robinson lead to 19-8.
Lake Braddock's next possession started at the Robinson 30 after forcing a turnover on downs. The Rams kept the Bruins off the scoreboard, however, forcing a turnover on downs at the 10, thanks in part to a third-down sack by sophomore linebacker Donnie Warter.
Lake Braddock kicker Nicholas Bruhn booted a 27-yard field goal with 2:50 remaining in the fourth quarter and the Bruins added a late touchdown, but Robinson held on for the win.
"We played amazing," Robinson senior linebacker Nick Roth said about the Rams defense. "Donny Warter, sophomore, played [the game of] his life."
Lake Braddock's Edwards completed 11 of 24 passes for 156 yards. Running back Dejoun Lee carried eight times for 31 yards. Senior receiver A.J. Alexander, who is committed to Ohio State, had four receptions for 45 yards.
After winning three straight road games, Robinson (3-0) will host Mount Vernon at 7:30 p.m. on Friday, Sept. 19. After three straight home games, Lake Braddock (2-1) will travel to face Westfield at 7:30 p.m. Friday.
What did Friday's victory mean to Vossler?
"It means the world," he said. "I think it gives us some credibility to what we're doing, that we can play smashmouth football in 2014 when not many people do it anymore, and we're trying to continue that."