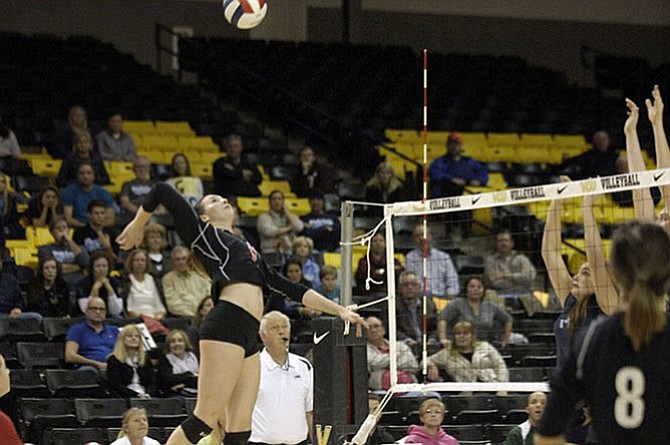 A little less than one year ago, Madison High School's volleyball team was one set away from completing an undefeated season and winning the school's first 6A state championship.
They lost.
"I'm still super touchy about the subject of [our loss in the state final]. I can't even talk about it," senior outside hitter Natale Zanellato said. "[Making it to the state finals] motivates us. It's like a legacy. Even though we didn't win, we have to uphold that sense of quality volleyball in this area. Everyone expects us to do well."
Even after graduating several seniors in 2015, including the region's player of the year and another all-state selection, the Warhawks have a number of players returning to the team. Offensively, the outside hitter positions will be filled by Zanellato, Jayne Carter and Kelsey Smith.
"We are working on serve­receiving and defense, because that's mostly what we lost with our seniors [in 2015]," Zanellato said. "The seniors really have to step up and be loud and direct things on the court, and figure out how to work together like a machine. We are just figuring it out and getting used to the group this year."
Avery Torres and Maddie Blake will lead the Warhawks defensively.
Senior setter Kendal Hall also returns.
"Since we made it so far last year, there's a lot of pressure on me to succeed," Torres said. "I'm just trying to relax and help my team win."
With less-experienced players stepping into leading roles this year, coach Carrie Hall, in her 16th year at Madison, wants the Warhawks to focus on their fundamentals in order to maintain the team's fast style of play.
"We are focusing on things we can control this season. We are going back to the basics and trying to improve ourselves each day," Hall said. "This team is a new team and we have a different feel than last year's team. This team wants to do well and they are figuring out their own way for succeeding."
The Warhawks have several traditions and routines that they "go through before each game, including team 'goal circles' and cheers," Zanellato said. Though they feel pressure from the community to excel on the court, the players still emphasize the importance of having fun on and off the court.
"We are a really happy team, and we're goofy and funny," Zanellato said. "Our chemistry is what's going to get us really far this season. We're always dancing and having a good old time. Even though we lost [some seniors], our relationship as a team is something other schools don't have."
Madison hopes that the new team will be able to achieve another conference or regional title this year.
"We like to try new things and be different," four­year varsity starter Carter said. "We have such a close bond on and off the court that we really are able to focus on our shared goals."
The team will begin their season at Potomac Falls on Sept. 1.
"The 6A North region has great volleyball teams and we will have to battle it out every night we have a match," Hall said.