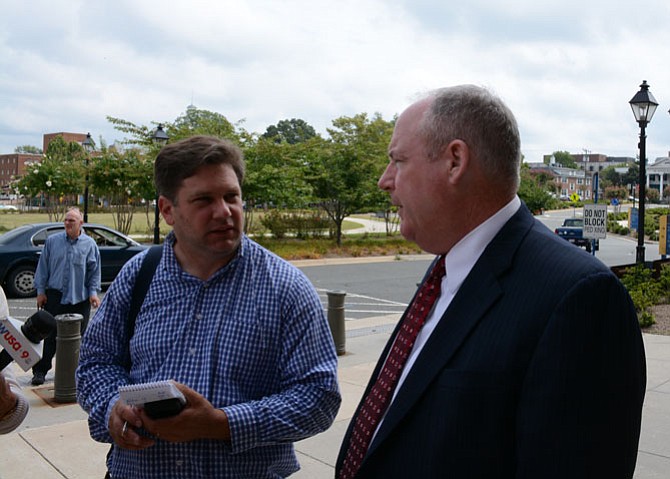 Shortly after 10 a.m. on Aug. 19, former Fairfax County Police officer Adam Torres entered the circuit courtroom for his arraignment, dressed in a baggy, blue-green prison jumpsuit. Torres was indicted the previous Monday by a special grand jury for killing Springfield resident John Geer in August, 2013.
He was still an officer at the time and one of several who responded to a call from Geer's longtime partner Maura Harrington that Geer was throwing her belongings out on to the lawn of their Springfield home.
After the indictment, Fairfax County Police said Torres surrendered himself that evening at the County Adult Detention Center.
Circuit Court judge Judge Stephen C. Shannon placed Torres' arraignment first on his docket. The defendant's attorney John F. Carroll began by rebutting his client being held without bond until the trial. Murder qualifies as an offense for which bond is denied in Virginia, but it can be argued whether the person accused poses a flight risk or is a threat to the community.
Carroll stated the case that Torres, 32, immediately turned himself in, has no prior criminal record and has a wife and two children. As Hayfield and George Mason University graduate, Carroll said he doesn't think "you can find anyone with greater ties to the community."
The attorney went on to summarize the Geer shooting incident, beginning to justify Torres by saying a handgun owned by Geer had been found on the scene "within reach, in our estimation," and that Geer had made "numerous erratic movements," prior to Torres firing.
And because the shooting in question was in Torres' performance of duties as a police officer, Carroll argued, "there's no reason for anyone to be fearful." Carroll then asked that a bond for Torres be set at $25,000.
Commonwealth's Attorney Raymond F. Morrogh spoke after Carroll in opposition to the bond motion. "Not only did he kill Mr. Geer," Morrogh said, "but did so with malice." Morrogh later added that was the consensus of the special grand jury.
The prosecutor also referenced evidence that Torres had been in a "deteriorating mental state," saying the former police officer had fought with his supervisor and with his wife because he suspected her of infidelity.
Though Morrogh didn't disagree with Torres' connection to the community and lack of flight risk, "It's the first time I've seen a police officer shoot someone who had his hands up," he said. "I think that makes him dangerous."
Judge Shannon reminded that, "We're not here to decide the merits of the case today, solely the bond."
Citing "some indications at the time of the incident of a deteriorating mental state," Shannon denied Carroll's request for a bond to be set.
Torres and the attorneys were asked to stand while the details of his trial were negotiated. Carroll hoped to start early in 2016 while Morrogh was intent to begin as soon as possible.
The two parties settled on Dec. 14 to begin the trial, which Morrogh said he expected would last about a week. As the date was reached, Torres suddenly collapsed backward and fell to the ground.
Judge Shannon cleared the entire courtroom as the bailiffs rendered first aid and called a rescue team.
Torres was taken to a nearby hospital, Morrogh said afterwards, and his vitals were said to have returned to normal. The attorney said it's not unusual for individuals to faint or pass out in the courtroom.
Outside the courthouse, Morrogh commented to reporters that though he's prosecuted judges and lawyers in his career, "It's rare to see a case like this — there's certainly no joy in it."
As for Torres being the first Fairfax County Police officer in 75 years to be charged with such an offense, Morrogh said he thinks "it's a really good thing that we don't have many of those."
"It's just the length of time this case has taken, that's not right," Morrogh said. "We have to have a finality to this."
Fairfax County had withheld much of the information about the case, including Torres' name, until Geer's family filed a $12 million lawsuit against the Police Department. Torres had been taken out of field work but remained employed by Fairfax County until he was fired in July of this year.
The county justified not releasing the information previously due to ongoing investigations by Police Internal Affairs, the Commonwealth's Attorney's office and the U.S. Department of Justice.
Jeff Stewart, Geer's best friend who witnessed the shooting and became a member of the Fairfax County ad hoc commission to review police practices, sat directly behind Torres during the arraignment. He had never seen the man face to face prior to that morning, and expressed sympathy for Torres and members of his family who were present at the hearing.
Stewart described having "mixed emotions" since the indictment. "I feel good for the process, and bad for the man," he said.
Torres' wife and family members declined to comment after the hearing.