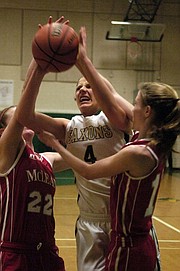 Langley girls' basketball coach Amanda Baker said her team exceeded expectations last season after the Saxons won 21 games, reached the Conference 6 tournament final and advanced to the region quarterfinals.
This year, Langley has its sights set on bringing home some hardware.
"Our primary goal this year," Baker wrote in an email, "is to position ourselves to compete for championships this postseason."
Langley hasn't won a conference/district championship since 1988. The Saxons open the 2015-16 season on the road at 6 p.m. tonight against Osbourn.
Langley graduated just one starter from a team that won 17 of its first 18 games last year, including a victory against eventual region runner-up Madison. The Saxons split their two regular­season meetings with the Warhawks before losing to Madison 32-28 in the conference championship game.
Defense was Langley's calling card last year. The Saxons allowed an average of 36 points per contest, and held opponents to 40 or fewer points in 16 of 26 games.
"Defense will always be a huge focus of the program," Baker said. "We have spent a lot of time already on making sure our defensive principles are sound. We expect that we will continue to improve on it each week and play with a great deal of pride all season."
While defense remains a focus for Langley, the Saxons are also looking to improve at the offensive end. Senior guard Paige Galiani led the team in scoring as a junior, averaging 16 points per game while knocking down 60 3-pointers and shooting 80 percent from the free-throw line. Galiani's 19 points accounted for more than half of Langley's offensive production during the Saxons' season-ending 47-37 loss to West Springfield in the regional tournament.
Galiani is closing in on Kathryn Hemlock's program record of 1,153 points, entering the season a little more than 200 points behind.
"We expect Paige to have her best season this year as a senior," Baker wrote. "She put in a tremendous amount of time this offseason working on new ways to score and on how to be an even more effective playmaker. Paige has really stepped up her leadership role this year, being more vocal and being a huge source of energy that the team feeds off of."
Several Saxons appear ready to pick up the scoring slack, including sophomore point guard Jordyn Callaghan, who enters her second varsity season.
"Jordyn has always been a steady ball handler and distributor," Baker wrote, "but this year we will be looking for her to be more aggressive in looking for her own scoring opportunities."
Junior guard/forward Ariana Aulisi and senior guard Lizzy Shamloo are also expected to be key contributors.
"Ariana Aulisi and Lizzy Shamloo are both positioned to have really strong seasons this year," Baker wrote. "Ari, entering her junior season, is a matchup nightmare and Lizzy is playing her best basketball at the start of her senior season. Both players look very confident and will round out a balanced scoring attack."
Galiani, Callaghan, Aulisi, Shamloo and senior center Stephanie Sipple compose the projected starting five.
"We lost several role players who brought energy to the floor and off the bench," Galiani wrote in an email. "However, I believe that the skill has improved all around as many players were training hard in the offseason. In order to be better than last year we need players to step up to fill those motivating roles."