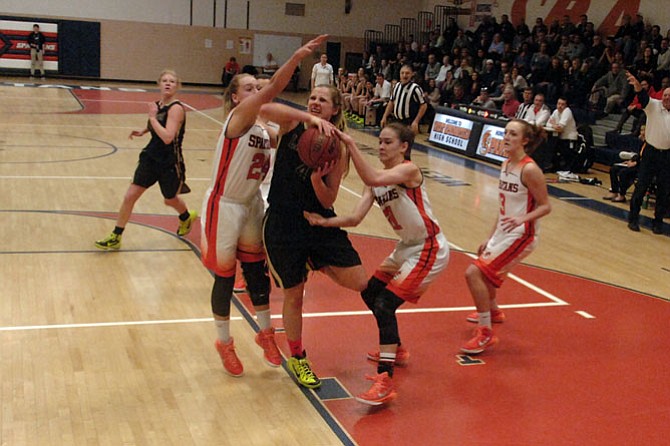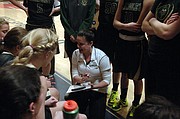 The Langley girls' basketball team exceeded expectations during the 2014-15 season, winning 21 games, including a regional tournament contest against Osbourn Park.
But that hardly dulled the pain of Saturday night's season-ending loss to West Springfield.
The Saxons came out on the short end of a physical contest, losing to the Spartans, 47-37, in the 6A North region quarterfinals on Feb. 28 at West Springfield High School.
In a game that featured bodies hitting the floor and officials swallowing their whistles, Langley failed to generate the offense necessary to overcome a six-point deficit entering the fourth quarter.
When a reporter mentioned the physical nature of the contest during a postgame interview, Langley head coach Amanda Baker said: "That's the understatement of the year."
How did officials affect the game?
"I don't think we got to the line as much as we probably should have and those are easy points, normally, for us," Baker said. "Give us a few free-throw attempts and it's a completely different game."
Langley made 10 of 12 free-throw attempts Saturday. West Springfield made 13 of 20.
JUNIOR GUARD Paige Galiani, whose game-high 19 points accounted for more than half of the Langley offense, was frustrated with the outcome.
"Usually, I won't complain about the referees, but today it just changed the game completely --- the tempo and everything," Galiani said. "... To have that be our last game of the season is really rough."
Sophomore guard Ari Aulisi scored seven points for Langley. Junior guard Lizzy Shamloo and freshman guard Jordyn Callaghan each scored four points, junior forward Sarah Flatley finished with two and senior forward Lauren Meyer added one.
While the season ended on a sour note, the Saxons can use the loss as motivation for next season. Baker knows from experience the pain of a playoff loss. As a junior, her Forest Park team lost to Atlee, the eventual state champion, on a buzzer beater in the first round of the 2003 state tournament. The following year, Baker's Forest Park team won the AAA state title.
"Sometimes, a loss like this is a different feeling than a loss like [in] first round of districts --- it really can motivate a team," Baker said. "My junior year in high school, we lost on a buzzer beater to Atlee and they went on to win. I remember that feeling. I told the kids tonight, 'Remember how this feels and how close you got and we need to really work this entire offseason to overcome what just happened.'"
The Saxons produced plenty of positives on which to build. Langley finished with its first winning season since 2009, amassing a 21-5 record in Baker's fourth season as head coach. The Saxons entered the Conference 6 tournament as the No. 3 seed and finished runner-up to perennial power Madison, losing to the Warhawks 32-28 in the conference championship game.
Langley hasn't won a conference/district championship since 1988, according to the team's banner hanging in the school gym.
The Saxons found success through defense. While Langley averaged just 47.3 points per game, the Saxons limited opponents to 33. Langley's notable regular-season achievements included a 14-game win streak, and victories against Chantilly, Madison, South Lakes and Fairfax.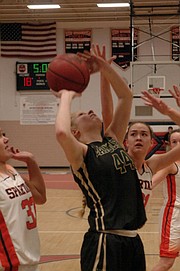 "I think we exceeded a lot of expectations," Baker said. "Winning 21 games was not even on my radar, and I'm not even sure the girls thought that was a possibility. It feels really good to have that accomplishment; and then to get to regionals and now we know what it's like. We're returning a big core of our group so I feel like this is a good tone setter for next season and we can go further."
Galiani, the team's top offensive threat, will return next season, along with standouts Callaghan, Aulisi and Shamloo. Galiani received first-team all-region honors from the Northern Virginia Women's Basketball Coaches Association. Baker was named Coach of the Year.
Baker said one area in which the Saxons need to improve is offensive production and perimeter shooting from post players.
LANGLEY will lose one starter --- Meyer --- to graduation. Baker said Meyer was the Saxons' top post defender.
"Lauren was our heartbeat," Baker said. "She was, on defense, conducting traffic, [and] on offense she would go after every board. Lauren was really the heart and soul of the team so we're going to have to look for someone to fill those shoes."
Langley's season ended in frustration, but the Saxons laid the foundation for continued success.
"Despite the fact that we did end up losing and couldn't advance, I'm so proud because we established the [Langley girls' basketball program] and school to now be respected," Meyer said. "I think in the years following, everyone is going to respect Langley. ... It's definitely a very different dynamic. Before, when teams played us, they would be like, 'Oh, this is an easy win. No problem, it's just Langley.' But now people had to scout us, now people had to prepare for our games, and it was just a completely different feeling going into these games."