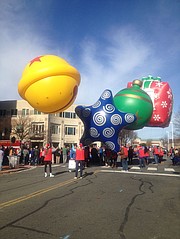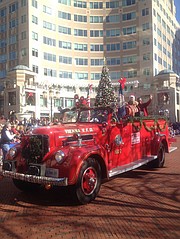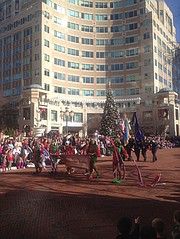 Friday, Nov. 27, Reston Town Center hosted its 25th annual Holiday Parade. The day was filled with activities, beginning with the Potomac River Running Gingerbread Man Mile. The parade began at 11 a.m. on Market Street, and holiday celebrations continued with the 6 p.m. lighting of the Christmas Tree at Fountain Square, followed by a Christmas sing-along with Reston Chorale. Hundreds of area residents attended the holiday themed events at Reston Town Center, which have become a tradition for some families.
"What I'm going to miss the most is seeing Bob Simon in the parade," said Reston resident and Mosby Woods Elementary School teacher Pat Mullaney. Reston founder Robert E. Simon, who died in September 2015, often joined in the Town Center Holiday Parade. Reston Town Center has over 50 shops, 30 restaurants, an 11-screen cinema, luxury residences, and a four-diamond Hyatt Regency hotel. The open-air pavilion was recently converted into an outdoor skating rink. Pleasant, sunny weather had some families take off their jackets. "This is our first year here, and we are having an awesome time, it is a great family event," said Reston resident Linda Smyser, who attended the parade with her husband and grandson.
Over 200 volunteers helped with the parade, which featured Macy's-style balloons, marching bands from Herndon High and South Lakes High schools, dancers, classic automobiles, the Washington Nationals' Racing Presidents, and Santa and Mrs. Claus. "The holiday spirit really brings the community together," said Bonnie Holden, a Reston resident who volunteered to be a balloon handler. Parade watchers had the opportunity to see Resty the dog, the new Reston Town Center mascot.
THE PARADE featured over fifty groups, with approximately 1,500 marchers and 11 performances by groups including Gottaswing Dancers, Alma Boliviana, and Dance Xone Extreme. Also attending were local Boy Scout and Girl Scout Troops, as well as area delegates including Del. Ken Plum (D-36), U.S. Rep. Gerry Connolly (D-11), and Supervisor Catherine Hudgins (D-Hunter Mill). "It is always great to see the high schools share the music from their bands and to see the JROTC," said South Lakes High School geometry teacher David Chase. The Herndon High School Theatre team highlighted their upcoming "Lion, the Witch and the Wardrobe" play, and the Herndon High School Step Team gave enthusiastic displays.
The parade's Grand Marshal was Susan Ungerer, a retired Fairfax County teacher and founder of nonprofit Kids R First, which provides thousands of Northern Virginia area kids with school supplies. The Junior Grand Marshal was Joseph Dagbe, an eighth-grader at Langston Hughes Middle School, selected by LHMS principal Aimee Monticchio. Masters of Ceremonies were NBC Washington anchor Angie Goff and meteorologist Doug Kammerer. Goff returned later with her daughter for the evening Tree Lighting at Fountain Square. "We love it, it is a tradition. We do it every year. I like that it has a hometown feel," said Herndon resident and Floris Elementary teacher Kat Clifford.
"I can say it was one of our best parades ever," said Denise Hogan, a property manager with Boston Properties. Boston Properties is the sole owner of Reston Town Center, and is turning the parking lot at the site formerly known as Block 4 into a mostly residential project. Following the Christmas sing-along, horse-drawn carriage rides were offered at 6:30 p.m.
CARRIAGE RIDES will be offered again at the Town Center Dec. 5, 12, and 19. Proceeds will benefit local charities, and children 5 and under ride free with adult. On Wednesday, Dec. 16, U.S. Marines will be at Reston Town Center Pavilion accepting unwrapped toys and cash donations.