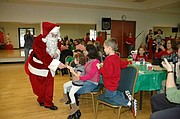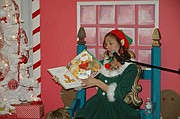 Deck the halls, hang the wreaths and string the lights for the annual "Dress Up Herndon for the Holidays" contest at the Town of Herndon. Judging will take place Monday, Dec. 14, 6-8 p.m. Judges from the town's Cultivating Community Initiative (CCI) will drive through Herndon's neighborhoods to choose the contest winners. Winners receive a yard sign as well as a certificate from the mayor and public recognition.
Residents of Herndon can nominate their home or their neighbor's home. You can email your nomination to information@herndon-va.gov by Dec. 11 and look for the judges' van circulating through the neighborhood. "It's loads of fun," said Anne Curtis, communications officer at the Town of Herndon.
Friday, Dec. 11 and Saturday, Dec. 12 are the dates for the annual Towne Square Singers Christmas Show. This year the show is titled Christmas With the Singers. "It is sure to be a great way to kick off the holiday season," said Curtis. The shows will be held at NextStop Theatre at 269 Sunset Park Drive, Herndon. Tickets ($10) are available at Herndon Community Center. Many members of the Towne Square Singers hail from Herndon and others come from surrounding communities in Fairfax and Loudoun counties.
On Saturday, Dec. 12, Herndon Community Center will host A Storybook Holiday event. Bring your child to enjoy holiday fun. Cost includes kiddie open gym, craft projects, a visit with Santa and a reading of a holiday story by a special guest. The event is from 11 a.m. to 1 p.m.
The Herndon Municipal Center at 777 Lynn St. will host the annual Herndon Holiday Model Train Show on Saturday, Dec. 12 and Sunday, Dec. 13. Model trains will be on display Saturday 10 a.m.-5 p.m., and Sunday 11 a.m.-4 p.m.
Dec. 14 at 7:30 p.m. is the date of the winter performance by the Herndon High School Choir at the school auditorium. Herndon High is located at 700 Bennett St., Herndon.
Mark your calendar for the Fairfax County Park Authority's final 65th Anniversary event: A family-friendly Holiday Party and Puppet Show at Frying Pan Farm Park Visitors Center on Dec. 19. The event begins at 10 a.m. with a brief program at 10:30 a.m. and the performance at 10:45 a.m. This free event will feature "Crooning with the Critters," an interactive musical show by the Goodlife Theater, which will feature puppets, live music and songs about our animal friends from the farm, the jungle and the deep blue sea.
Inside the Visitors Center, guests can enjoy hot cocoa, cider and cookies. Outside they can visit with farm animals from Kidwell Farm. A brief program will feature remarks from local officials as well as a viewing of the Park Authority's 65 Things to Do in Parks video.
The event is sponsored by the Fairfax County Park Foundation as part of the parks' 65th Anniversary Celebration. With nearly 24,000 acres of parkland, Fairfax County Parks is among the area's largest providers of recreation as well as stewards of open space, forests, historic sites, and a popular network of connecting trails. The event is free however donations to the Fairfax County Park Foundation will be accepted in support of Frying Pan Farm Park summer camp scholarships for low-income children. Frying Pan Farm Park Visitors Center is located at 2739 West Ox Road, Herndon.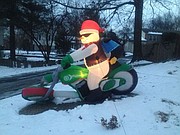 On Dec. 22, bring your holiday guests and join master puppeteer Bob Brown in a holiday production of Winter Wonderland at Frying Pan Farm Park. Join the marionettes as they frolic in a magical winter wonderland of snow. After the show, stroll the Park and visit animals or shop at the Country Store. Children must be accompanied by a paid, registered adult.
ArtSpace Herndon located at 750 Center St. in Herndon is hosting its annual New Year's Eve Gala. The event begins with a Children's Crafts and Dance Workshop with Acoatzin Torres from 2-4 p.m. for ages 5 – 12. Tickets are $5 per child. New Year's Eve celebration for adults at ArtSpace Herndon continues with A Night of New Orleans Jump Blues with Herbie D and the Dangermen, from 10 p.m.-12:20 a.m. Tickets are $25 and include hors-d'oeuvres. For more information about ArtSpace Herndon, visit www.artspaceherndon.com.