After eliminating the final obstacle in his path to a second state wrestling championship, Centreville senior Tyler Love eliminated the source of the ribbing he had received in recent weeks.
Love repeated as the 6A 195-pound champion, pinning Colonial Forge's Cameron Houston in the finals during the VHSL state wrestling tournament on Feb. 20 at Robinson Secondary School. After posing for pictures on the medal stand, Love used the electric razor he brought to rid himself of the lip fuzz he sported during the postseason.
Along with a state title, Love won Conference 5 and 6A North region championships with the 'stache. But did he still receive a hard time for the facial hair?
"Absolutely," Love said. "All the time. I couldn't go anywhere without catching crap for it."
All jokes aside, Love's performance Friday put the finishing touch on a spectacular high school career. Along with two wrestling state titles, Love was a standout linebacker for the Centreville football team and helped the Wildcats reach the state final during his junior and senior seasons.
Centreville won it all in 2013, finishing an undefeated season with a victory over nationally-ranked Oscar Smith in the championship game. In 2014, Centreville lost in overtime to Ocean Lakes in the state final.
"It's pretty ... good," Love said of his high school career. "Obviously, four rings would have been nicer."
Love will continue his wrestling career at the University of Virginia — one of the reasons Love said he was motivated to continue working after winning his first wrestling title.
"It wasn't hard at all," Love said about finding motivation. "I know I'm moving to the collegiate level and I have to always keep on getting better."
Did the second state title feel any different than the first?
"It feels better," Love said, "because it's hard to repeat anything, as we saw in football."
Love was part of a Centreville trio that earned enough points to finish second in the team standings. Victor Echeverria won the 113-pound title, beating Battlefield's Matthew Asper via 8-4 decision, and Michael Vu finished runner-up in the 132-pound bracket.
Colonial Forge dominated the competition, producing a winning score of 147. Centreville finished runner-up (57.5), followed by Robinson (51), Westfield (48) and Battlefield (47).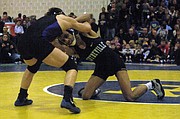 "It's amazing," Love said of Centreville placing second. "I'm so proud of Vu and Vic."
Westfield and Robinson each produced two individual state champions, as well.
Westfield's Justin Yorkdale pinned Vu to win the 132-pound title — Yorkdale's second state championship.
Yorkdale said it wasn't easy to get back to work after winning his first title.
"The first one is definitely ... so fulfilling," he said. "... [A]fter I won my first one, the offseason, that was really hard. You're coming off a big win — that's your main goal in high school, to win a state title — and now what do I do? ... It's definitely tough to push yourself."
Westfield senior Austin Knies defeated Stafford's Sebastian Silva via 1-0 decision to win the 285-pound title. Knies missed the 2014 postseason after dislocating his right kneecap prior to the conference meet, making Friday'svictory that much sweeter.
"I got injured and I started to lose faith if I would ever get there," Knies said. "...The lowest point was actually watching states [in 2014]. I watched where I would have been. As it progressed, I was like, 'Oh I could have beaten him, I could have done better there.' It was really hard for me to watch the state tournament. I felt like I had wasted the golden egg that I had been given where I had a really good chance of doing well at states."
Robinson's Austin Riggs won the 145-pound championship and 195-pounder Cole DePasquale won his second state title.
Due to inclement weather concerns, the VHSL condensed the two-day state tournament into a one-day tournament. The competition lasted until after midnight.
More like this story