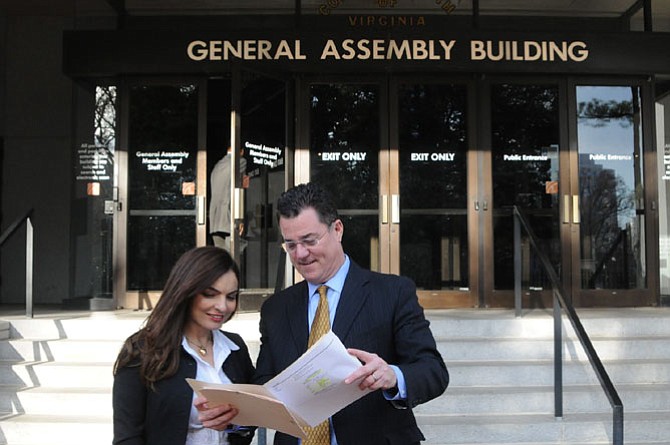 As the current meeting of the Virginia General Assembly neared the one-month mark, legislators in the House of Delegates and Senate had to finalize work on bills they would send to their counterparts for consideration. Last week's "cross-over" on Feb. 11 marked their final chance to either move forward with promising legislation or kill it, with the exception of budget or revenue bills.
"We're always told not to fall in love with your bills," said Del. Eileen Filler-Corn (D-41), "but it's hard not to do that. When you work with stakeholders and get to know the issue, especially with a lot of personal stories and testimonies, you get attached to them."
Even though some bills don't make it to the opposite chamber, many come back in subsequent sessions.
Sen. George Barker (D-39) likes to say, "My bill isn't dead, it just hasn't passed yet." Several of his bills that passed the Senate this year have gotten killed in previous years. "It takes a good while to build up enough support," he said, "and work with people who have concerns."
The cross-over milestone is standard procedure for a session that lawmakers said is moving along as expected, without much fanfare or controversy.
"This is really the way it should be," said Del. Dave Albo (R-42). "We're running a state: Our job is to pave roads, put bad guys in prison, keep kids in college and schools."
But that doesn't mean it's all downhill from the cross-over.
"As with any session, there's ups and downs, some very tough votes you have to take," said Del. David Bulova (D-37). "There are things you really like, or wish you weren't in the package, but does this move the ball forward or not? The easy bills are typically the ones taken care of in first week or two."
Bulova cited the request for Dominion Power to forego the biennial rate review it would normally be subject to as an example of a "tougher" and "more nuanced" issue now being dealt with.
"On one side, it's nice to have that review," he said. "On other side, with the cost of new regulations that are going to dramatically reduce carbon emissions, there's something to be said for freezing rates. To understand all that goes into rate-making, with responsibility to consumers and the environment, I wish I had 30 minutes to explain it to every constituent."
Ethics legislation and tweaks to the budget passed last year are two other major areas receiving attention.
Sen. Toddy Puller (D-36) thinks the budget is "looking pretty good," but remains curious to see how the ethics bill comes out . "What we did last year I voted for, but just thought it was pathetic," she said. "It's pretty hard not to vote for ethics reform. This year I'm hoping it will do something."
The the cross-over moving the legislative process along healthily, there's some speculation the session may even end "a day or two early," according to Sen. Dave Marsden (D-37). "That saves us about about $35,000 a day."
But nobody's holding their breath.