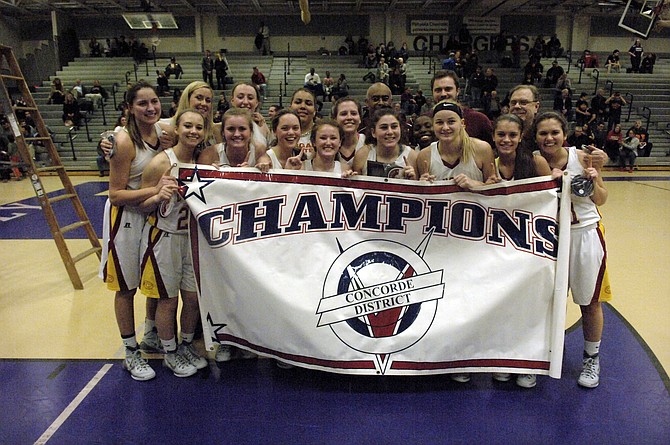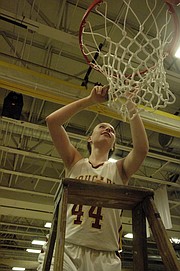 After Oakton girls' basketball coach Fred Priester celebrated his 16th conference/district championship in 21 years with the Cougars by cutting down one of the nets at Chantilly High School, the Conference 5 Coach of the Year made his way down the ladder and answered a reporter's question.
Does winning conference championships get old?
"They never do get old, especially now that the VHSL has discombobulated everything else," Priester said. "The one thing you feel like you can count on is the conference, the district. Winning a conference or a district championship is never going to get old."
Things have changed in recent years in the world of Virginia High School League athletics. The Cougars play in Group 6A rather than AAA, and the Concorde District is now referred to as Conference 5. However, one thing that remains consistent is the Priester-led Oakton girls' basketball program experiencing success.
Oakton won its 22nd consecutive game Monday night, beating Chantilly 64-51 in the Conference 5 tournament final. The Cougars have won 10 conference/district titles in the last 11 years, including back-to-back conference crowns after Centreville snapped Oakton's streak of eight straight district championships in 2013.
Oakton led by 13 points in Monday's second quarter, but Chantilly started to chip away and pulled within six when Simone Jeffries' bucket cut the Cougar lead to 31-25 with 5:40 remaining in the third. Oakton responded with 14-4 run, building the lead to 16.
Chantilly made a final push, cutting the Oakton lead to six at 48-42 with less than 5 minutes remaining in the fourth quarter, but the Cougars responded with buckets by Lindsey Abed and Maddie Royle to maintain control.
"When they went on their run," Abed said, "we all had to come together as a team and remain focused and that's what we did."
Abed, Royle and sophomore forward Delaney Connolly carried the scoring load for Oakton.
Connolly, a 6-foot sophomore forward, finished with a team-high 20 points. Royle, a 6-foot-1 sophomore center, scored 18 points and grabbed seven rebounds.
"They play fantastic with each other, especially the high-low action," senior guard Abed said about the sophomore duo. "They do very well."
Abed, the Conference 5 Player of the Year, scored 17 points.
Senior guard Bryndie Ballam led Chantilly with 15 points, including a trio of 3-pointers. Jeffries and sophomore guard Mary Clougherty each scored nine points and junior post Shawnice Greshan added eight.
Oakton junior guard Alex Marquis and Chantilly's Clougherty were named first-team all-conference, along with Westfield senior Emily McNamara, Centreville senior Caroline Wakefield and Herndon sophomore Indeya Sanders.
Oakton's Connelly and Royle earned second-team honors, and senior guard Karlie Cronin, who missed most of the regular season with a knee injury, received third-team recognition.
Abed was also named Defensive Player of the Year.
Oakton (23-1) will host Lake Braddock in the opening round of the 6A North region tournament at 7 p.m. on Thursday, Feb. 26. Chantilly (16-7) will host T.C. Williams at the same time.
More like this story