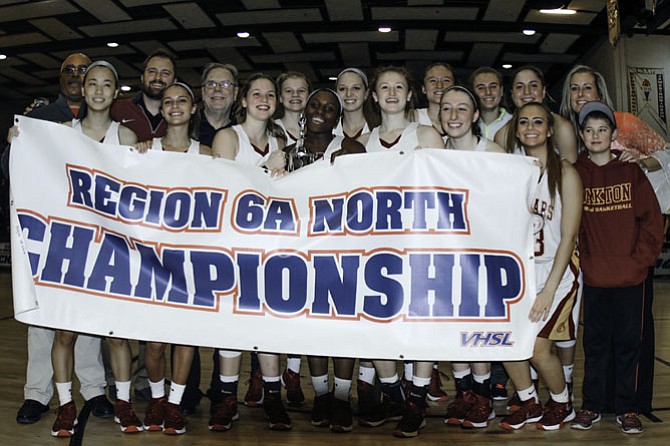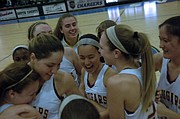 The Oakton girls' basketball team suffered through a scoreless stretch of more than 10 minutes during the 6A North region tournament final on Feb. 27, standout forward Maddie Royle picked up her fourth foul with 5:18 remaining in the third quarter and head coach Fred Priester questioned the Cougars as they trailed entering the fourth.
"I told them at the end of the third quarter, 'Look, I'm looking out here and looking at a bunch of kids that aren't going to come back,'" Priester said. "'Is that who you are?'"
The Cougars told their coach that wasn't the case. Then they went back on the court and proved it.
Oakton outscored Fairfax 26-13 during the fourth quarter and repeated as region champion with a 46-36 victory on Saturday at Robinson Secondary School. The Cougars also remained undefeated, improving their record to 28-0.
"We're not satisfied with this," Royle said. "We're going to go farther."
Royle led all scorers with 20 points and received tournament MVP honors. After sitting out more than half of the third quarter in foul trouble, the junior forward returned in the fourth and knocked down a 3-pointer that gave Oakton a 27-26 lead with 6:34 remaining. The Cougars held the lead for the remainder of the contest.
"I consider that to be a guts win for these kids," Priester said. "They gutted it out."
Junior guard Kailyn Fee knocked down a 3-pointer with less than 3 minutes remaining in the first half, giving the Cougars a 20-11 lead. It would be the last time Oakton scored until a Delaney Connolly jumper 15 seconds into the fourth quarter ­­­ a drought of nearly 11 minutes.
Fairfax failed to pull away, however, managing just 12 points during Oakton's stretch of offensive futility. The Rebels outscored the Cougars 7-0 during the third quarter, taking a 23-20 lead on a Noe'll Taylor free throw with 2 minutes left in the period.
"Once we finally settled down, once we came to the realization we spent the whole quarter without scoring a point [and] we were only down three, we said ... we can do this," Priester said. "... All we've got to do is get a couple buckets."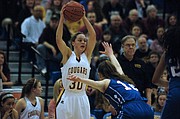 Connolly scored eight of her 12 points in the fourth quarter, including a 3-pointer with 2 minutes remaining that extended the Cougar lead to 39-32.
Oakton made nine 3-pointers, including four by Royle and two by Connolly.
Fee finished with 10 points for Oakton, including a trio of 3-pointers.
"I'm feeling more confident in my shot nowadays," Fee said, "and I just let it fly when I get it and my teammates trust me to do so."
Fee and Connolly were named to the all-tournament team.
Oakton will face Woodbridge, the No. 4 seed from the 6A South region, in the state quarterfinals at 7 p.m. on Saturday, March 5 at Robinson Secondary School. The winner will face the winner of Landstown and Langley in the semifinals at 1:30 p.m. on Tuesday, March 8 at VCU in Richmond.
The state final is scheduled for 7:15 p.m. on March 9 at VCU.
Last year, Oakton entered the state tournament on a 26-game win streak but lost to Bethel in the semifinals.
"We think about how bad it felt to lose," Royle said, "and we don't want to feel that way ever again."
More like this story