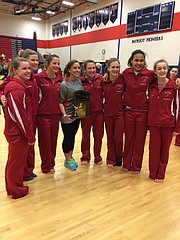 The McLean gymnastics team pulled off the trifecta Friday.
After winning their fourth consecutive Conference 6/Liberty District championship and capturing the 6A North region title, the Highlanders finished the 2014-15 season by winning the state championship on Feb. 20 at Patriot High School.
McLean posted a score of 145, edging Stafford (144.75) to win the team title. Ocean Lakes finished third (143.9) and Battlefield took fourth (139.175).
"It was such an exciting experience!" McLean gymnast Jacqueline Green wrote in an email. "We had no idea what the outcome would be throughout the competition so we were surprised and thrilled by the news. We have all worked so hard to get to this point and it feels great to finish my senior year first in the state."
McLean, led by head coach Courtney Lesson, is the first Fairfax County school to win a VHSL state gymnastics title since Langley accomplished the feat in 2004.
"We really had not competed against many of the teams at the state competition but we knew they were all stacked with talent, so that was definitely intimidating," McLean senior Lizzy Brown-Kaiser wrote in an email. "Going into the competition, the entire team was really focused on hitting our routines and having fun while doing it."
MCLEAN CAME CLOSE to winning it all last season. After winning their conference and finishing region runner-up to Washington-Lee for the third straight season, the Highlanders placed second at the 2014 state meet, finishing 1.225 points behind Frank W. Cox.
"We were all motivated to live up to the high expectations that we set for ourselves after last year," Green wrote. "We wanted to make this season even better than the last."
"This year we had a lot of depth with the addition of several talented freshmen to the team," Brown-Kaiser wrote. "I think everyone on the team improved immensely throughout the course of the competitive season and peaked at states. We all became a lot more consistent and confident with our skills with the help of our coach, Courtney Lesson."
Green and Brown-Kaiser were two primary reasons McLean captured its first state title. Green finished with the Highlanders' top score on floor (9.525), vault (9.425) and beam (9.35). She also scored 8.8 on bars.
"I felt great about the meet," Green wrote. "I had my best individual all-around score of the season. It was a great way to finish up my last meet with the team. It feels very gratifying to have all of our hard work pay off. ... We knew that we needed to have our best meet of the season to pull off first place. It was an incredible team effort and I am very proud of everyone."
Brown-Kaiser scored 9.15 or better in each event, including 9.425 on floor. She scored 9.3 on vault, 9.25 on beam and 9.15 on bars.
"Personally, I was very satisfied with my individual performance but I was especially proud of the team," Brown-Kaiser wrote. "I was really happy that I could contribute to our team score."
Calista Parude (floor, 9.275), Carolyn Brown-Kaiser (vault, 9.15) and Mathilde Larose (vault, 9.05) each scored 9 or better in an event for the Highlanders.
Madison Schumann (8.675) and Delaney Gallagher (8.6) competed on beam for McLean.
THE INDIVIDUAL COMPETITION, originally scheduled for Feb. 21, was postponed until noon on Saturday, Feb. 28 at Patriot High School due to inclement weather concerns. Lizzy Brown-Kaiser will compete in the all-around. Green will compete on floor and vault, and Carolyn Brown-Kaiser qualified on vault.
"I hope to do some of my best routines of the season," Green wrote. "I want to finish off my high school career on a good note!"