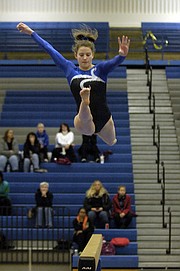 Saturday marked the final home meet in Fairfax senior captain Rachel Barborek's high school gymnastics career.
She would make it a memorable afternoon.
Barborek was honored, along with fellow senior captain Ally Farrington, prior to the Jan. 10 meet at Fairfax High School. She then proceeded to win each of the four events and finish first in the all-around competition with a career-best score.
She even won the senior handstand contest prior to the award ceremony.
"It was awesome," Barborek said. "I couldn't have asked for a better meet. Everything came together so perfectly. Every meet before this, I've had an off event, but today I had all on events. It was really great."
Barborek finished in a first-place tie with McLean's Calista Pardue on floor with a score of 9.55. She finished alone in first place on beam (9.675), bars (9.525) and vault (9.575). The result was an all-around score of 38.325, more than three points better than second-place Carolyn Brown-Kaiser of McLean (34.6).
"I think this is the best Rachel has done in the past two years that I've coached her," Fairfax head coach Marissa Gaines said. "This is the strongest she's looked ... and she was on fire."
Perhaps the biggest surprise of Barborek's afternoon was her performance on vault --- the event that has plagued Barborek in the past.
ON THIS DAY, aided by a slowed approach on the runway, Barborek flipped a Yurchenko Pike and celebrated with a burst of exuberance.
"I've had trouble flipping that vault," Barborek said. "It's a mental problem and I did it today without a problem. It was crazy."
Barborek, who is also a member of the Fairfax swim and dive team and pole vaults for the track team, was a Level 10 club gymnast with Capital Gymnastics, but quit after her sophomore year. This is her third year as a member of the Fairfax High gymnastics team (she didn't compete for the Rebels as a sophomore). Last season, Barborek placed fifth in the all-around at the VHSL state meet. Now a senior, Barborek has her sights set on bringing home the all-around state title.
What makes Barborek such a successful gymnast?
"Her determination," Gaines said. "No matter what, she just keeps fighting for what she wants and she stays motivated."
Along with Barborek's individual success Saturday, Fairfax produced the highest team score in its history, as well. The Rebels amassed a total of 125.825, finishing runner-up to McLean (139.45).
Barborek said the addition of her mother, Susan Barborek, to the Fairfax coaching staff has helped the team improve. Susan Barborek was a gymnast at the University of Michigan.
"It's been better than I expected," Susan said about her experience as a first-year Fairfax assistant coach. "We have a really good group of girls. It's nine or 10 girls and they all work hard."
Fairfax placed fifth at the Conference 6 meet last season, narrowly missing a top-four finish and a berth in the 6A North region meet. The REBELS have their sights set on qualifying for regionals this year.
Along with Barborek, Gaines said sophomore Madeline McDuffy, freshman Anna Whetzel and freshman Kathleen Summers have been standouts for Fairfax.
Whetzel placed sixth on vault (8.8) and floor (8.1) on Saturday. Summers finished fifth on vault (8.825). McDuffy did not compete due to injury.
Fairfax is scheduled to compete in meets at Washington-Lee High School on Jan. 22 and Jan. 24. The Conference 6 meet is scheduled for 6:30 p.m. on Feb. 2 at McLean High School.