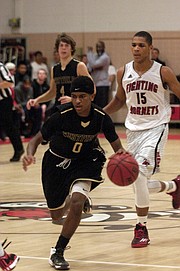 The sharpshooting Herndon boys' basketball team gave the Westfield Bulldogs one of their toughest tests of the season on Friday.
The Hornets connected on six first-half 3-pointers en route to a one-point halftime lead. Two minutes into the fourth quarter, Herndon had knocked down nine shots from behind the arc and trailed Westfield, which entered the game with a 12-1 record, by a single point.
But after 26 minutes of back-and-forth basketball, the Bulldogs stepped up their defensive effort and showed how dangerous they can be.
Westfield used a 16-2 fourth-quarter run to secure a 69-56 victory on Jan. 16 at Herndon High School. After a bucket by Herndon's Dupree Monk cut the Westfield lead to 51-50 with 6:07 remaining, the Bulldogs limited the Hornets to one field goal during the next 4 minutes, 29 seconds. Meanwhile, Westfield guard Blake Francis generated points by attacking the basket and Tyler Scanlon knocked down a corner 3-pointer.
In a matter of minutes, Westfield turned a tight-knit contest into a double-digit defeat for Herndon.
"In the first half, they went 6 of 7 from 3-point range. They're going to be in the game," Westfield head coach Doug Ewell said. "… As we started to get stops, things became a little bit easier for us, so that was really, really important."
The victory improved Westfield's record to 13-1. After losing to Lake Braddock on Dec. 9, the Bulldogs have won 11 in a row.
"This is a big win for us," Francis said. "… We came in facing adversity, coming into their house --- small gym, big crowd. I think this is the biggest win of the season so far and now it's a big confidence booster."
Herndon had no answer for Francis' quickness in the fourth quarter. The 5-foot-10 junior guard drove to the rim, scored and was fouled with 5:13 remaining. Francis converted the three-point play, giving the Bulldogs a 59-50 lead.
Later, Francis shook a defender, causing the Herndon player to fall down, and then went to the basket and scored, extending Westfield's lead to 63-52.
Francis finished with 17 points.
"Blake is Blake," Ewell said. "Blake can go. That was an added plus. We needed it."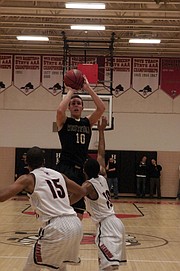 Scanlon, a 6-foot-7 junior transfer from Paul VI, also finished 17 points. He scored the game's first two points with a dunk, and dunked again to open the second quarter.
Scanlon said he has transitioned from facilitator to scorer with the move from Paul VI to Westfield. He said his experience playing in the hyper-competitive Washington Catholic Athletic Conference has helped his game.
"I think what I learned [at PVI] is every play is important," Scanlon said. "Every play means something in the WCAC and I feel like I've taken that [approach] here. … I think the biggest thing that the WCAC helped me with is definitely the speed of the game."
Jacob Williams scored 12 points for Westfield and Patrick Lawless added 11.
Herndon turned the ball over 22 times, but head coach Gary Hall said he was pleased with how the Hornets competed.
"We're right there," said Hall, whose Hornets fell to 8-6. "If that's the second-best team in the state, the best team in the region, I like where we are. They knew they were in a game and last I checked there was no award ceremony going on out there."
Sophomore guard Michael Griffin led Herndon with 19 points, including five 3-pointers.
Westfield hosts Robinson at 7:30 p.m. tonight.
"I think it's been really good," said Ewell, referring to how the Bulldogs have handled success.
"The guys have grown together. They've had some expectations of themselves. They know there's a lot more work to be done because we want to be good in February."
More like this story