Money — and the lack of enough of it to do everything needing to be done — is at the heart of Fairfax County's problems. And Supervisor Michael R. Frey (R-Sully) doesn't expect the situation to change anytime soon.
"Taking 18 months to get a plan through the county isn't development-friendly. So we've got to reform our development process, including site-plan, zoning and Comprehensive-Plan review."

— Michael Frey, Sully District Supervisor
"The economy still colors everything we do," he said. "And this will be a particularly difficult year." He was speaking before the Jan. 19 quarterly meeting of the West Fairfax County Citizens Association (WFCCA) and discussing the state of both the county and the Sully District.
"The schools eliminated early Monday closing and are changing high-school start times — and each will cost about $5 million," said Frey. "And they're pushing for higher teacher salaries."
Besides that, he said the county adopted a new method of dealing with county-employee salaries, and it'll cost about $42 million/year. "The old pay plan cost about $55 million/year, so it'll be a savings," said Frey. "But since we haven't given any raises, the past few years, we're going to take quite a hit."
In the revenue arena, he said the commercial real-estate market is still flat and "employers are using less space now. They're doing what they did before in about 70 percent of the space. And the office-vacancy rate is 17-18 percent, not including sublet space."
Frey said what's really "driving things" is the county's dependence on the federal government. "And as sequestration begins to ripple through, it's working down to contractors and having a big effect on our economy," he said. "So it'll be another challenging year."
Basically, he said, "Property taxes are still our primary source of revenue. The Board [of Supervisors] made a meals-tax task force, which came back with no recommendation, so [the idea] just died. It never even got to go to the voters, and I was disappointed about that. A 4-percent meals tax would have generated $80 million to $90 million — and that's real money."
"But without a meals tax, there's nothing else in sight to expand and diversify the economy," continued Frey. "The private sector does that, but it's hurting right now."
He said the county library system is also "becoming a big issue. We asked [Director] Sam Clay to do more with less, and he did." Yet the future direction of the area libraries is a puzzle that must be solved, and soon.
"People in their 50s and 60s love books," said Frey. "But find me a high-school senior that's held a book in the last six months. So we need a strategic plan to prepare us for the next generation. We need to work hard to get the high-school students involved and represented on the Library Board. We could spend a lot of money foolishly, if we don't do it right."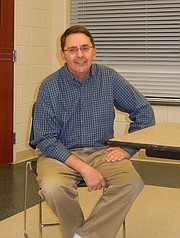 He said Clay plans to leave his post in spring 2016, so the Board of Supervisors planned to kick off the search process for Clay's successor immediately.
"Another major initiative for the county executive is reforming and expediting the review of development plans," said Frey. "Taking 18 months to get a plan through the county isn't development-friendly. So we've got to reform our development process, including site-plan, zoning and Comprehensive-Plan review."
Part of the problem, he said, is that "because we got so specific with our Comprehensive Plan, almost every new development proposal needs not just a zoning amendment, but a Comprehensive-Plan amendment, as well. So the county is now working on changing this."
"We're bringing in a consultant to benchmark us with jurisdictions across the country to help us streamline the process," continued Frey. "The goal is to put everyone on equal footing and get them all through the development process with the same speed."
On the horizon are the World Police and Fire Games that Fairfax County will host, beginning June 25, and Frey can hardly wait. "We're estimating 12,000 athletes from 72 different countries will be here," he said. "I've been to three of these games and they're really a lot of fun. You see first responders from all over the world and get to meet them and learn, for example, what it's like to be a firefighter in Australia."
He said 25,000 to 30,000 friends and family members are expected to accompany those athletes and patronize the local stores and restaurants, plus visit various tourist attractions while they're here. "So this is our chance to show the world who we are as a county and as a people, and I'm excited about it," said Frey. "And I have every confidence that we're going to show them we're a world-class community with friendly people."