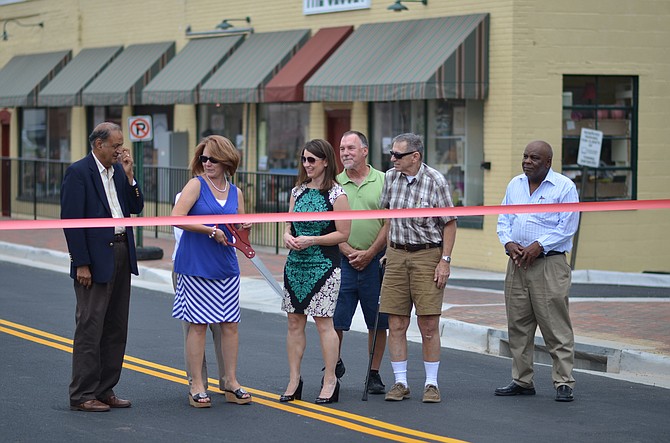 On Tuesday, June 16, residents of Herndon celebrated the reopening of the new and improved Station Street. Mayor Merkel, economic development manager Dennis H. Holste, Jr., former mayor Michael O'Reilly, Melissa Jonas and town councilmember Jasbinder Singh were some of the local officials who attended the ribbon cutting ceremony at the corner of Station and Center Street.
The vision for an improved Station Street goes back many years. The initial concept for the project was approved by the Herndon Town Council in 1998. The town applied and received grant funding for the project from VDOT so the expense was not borne entirely by Herndon taxpayers. "Our objective was to improve this important thoroughfare in our downtown and make it attractive, easily-traversed street for vehicles and pedestrians alike," said Mayor Merkel. "I never thought I would be this excited about a curb and gutter."
New features of downtown Station Street include brick crosswalks, a replaced water main, improved storm drainage, and a new curb and gutter. Merkel mentioned the town was grateful to many people and businesses which helped with the project including Griffin-Owen, the Herndon Moose Lodge, and Ron Sasher, owner of the Total Auto Parts Lot, who donated right of way or easements.
Contractors for the project included Celtek Inc. and A&M Concrete Corporation. The Herndon Department of Public Works provided oversight for the project. Light poles will be installed along the street this fall. Although the Station Street was temporarily closed on some days during construction, the town hopes people will enjoy the end result of a new street for homes and business.
The Town's Master Plan envisions a mix of retail, office and residential development, to include four-story mixed-use/residential structures; three-story mixed-use/commercial structures; a jointly-funded public/private parking structure; and more. Underground wires and red brick sidewalks wide enough for wheelchairs and strollers were two of the aesthetic improvements Herndon elected to fund at Station Street. The Town of Herndon gives residents the opportunity to track progress on the downtown projects on its website www.herndon.va-gov.