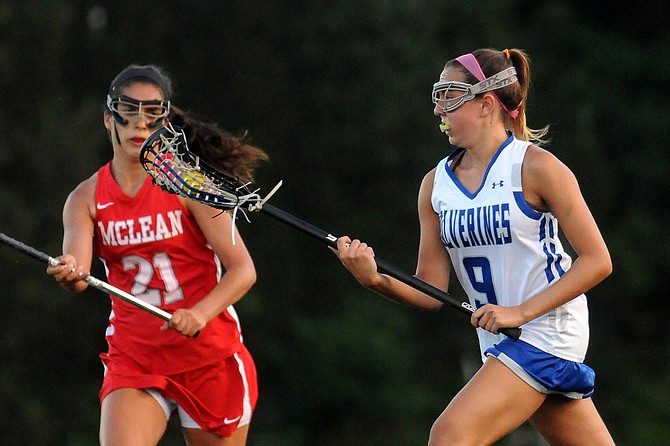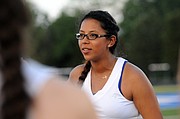 The West Potomac girls' lacrosse program took a step in the right direction Tuesday night by hosting a regional playoff game for the first time in at least a decade.
But the Wolverines will have to wait until next season to show more on-field improvement as the Elise Koehl­led McLean Highlanders denied West Potomac its first regional tournament victory since 2012.
Koehl, a University of Louisville signee, scored 10 goals and the Highlanders defeated the Wolverines 18-10 in the opening round of the 6A North region tournament on May 26 at West Potomac High School.
West Potomac had earned a trip to the Conference 7 championship game, where the Wolverines lost to Woodson on May 22. Finishing runner-up earned West Potomac Conference 7's No. 2 seed in the regional tournament and its first regional home game in at least a decade, according to results at laxpower.com. While hosting Tuesday's game was an accomplishment, McLean showed West Potomac still has some work to do as the Highlanders, the No. 3 seed from Conference 6, led for the final 42 minutes and 59 seconds.
"I think that we have become a team that is more skilled than what it has been in the past," second-year West Potomac head coach Cindy Lopez-Yusuf said. "I think our biggest issue and what we're looking to overcome in the next season is our mental toughness and being able to handle these high-pressure situations. These girls, especially the ones who are in leadership, aren't used to being in these types of situations where they're in high-pressure games. And my hope is as we continue to grow the program that they'll be able to handle these tough, tight, high-competition games better and better."
Lopez-Yusuf has led West Potomac to a winning record in each of her two seasons with the program. In 2014, the Wolverines finished 11-6 and qualified for regionals with 18-17 victory over Annandale in the conference tournament quarterfinals. This year, West Potomac finished 10-8, including a six-game win streak that started with a 17-0 victory over rival Mount Vernon.
"I believe," Lopez-Yusuf said, "in the skill that we have here."
West Potomac senior attacker Lizzie Wood scored six goals in Tuesday's loss to McLean. Her goal right before the halftime horn cut the Highlanders' lead to 9-5.
"I think that she's been a go-to shooter and a player who could have probably pushed me away when I came on because I have a very different coaching style," Lopez-Yusuf said, "and I appreciate the fact that she took the new coaching style and really took it to heart."
Freshman midfielder Madison Smith scored two goals for West Potomac, and sophomore midfielders Theresa Willmott-McMahon and Martha Gallagher each had one.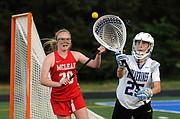 West Potomac freshman goalkeeper Claire Barber finished with 13 saves.
Lopez-Yusuf, 29, said bringing in experienced players from the Fort Hunt feeder program to play with the talented athletes already at the varsity level is important to developing West Potomac girls' lacrosse.
"They are the future of the program," Lopez-Yusuf said of freshmen Smith and Barber. "I think that we have an especially strong sophomore and freshman class ... again, coming in from Fort Hunt [and] having that experience and that's what's going to help us build a program — bringing in more strong players as freshmen already being able to play at this level."
Wood, Gallagher and junior midfielder Zshana Lee earned first­team all-conference honors for the Wolverines. Barber, Smith and senior midfielder Chloe Harris were named to the all-conference second team, and Willmott-McMahon, junior attacker Sarah Gallagher and junior midfielder Maxine Clifford garnered honorable mention.
"I think that we're in a situation where we're only going to get better," Lopez-Yusuf said. "We have a fantastic feeder program and I think as West Potomac continues to prove themselves as a team that shouldn't be taken for granted, we'll attract more strong players from that feeder program."